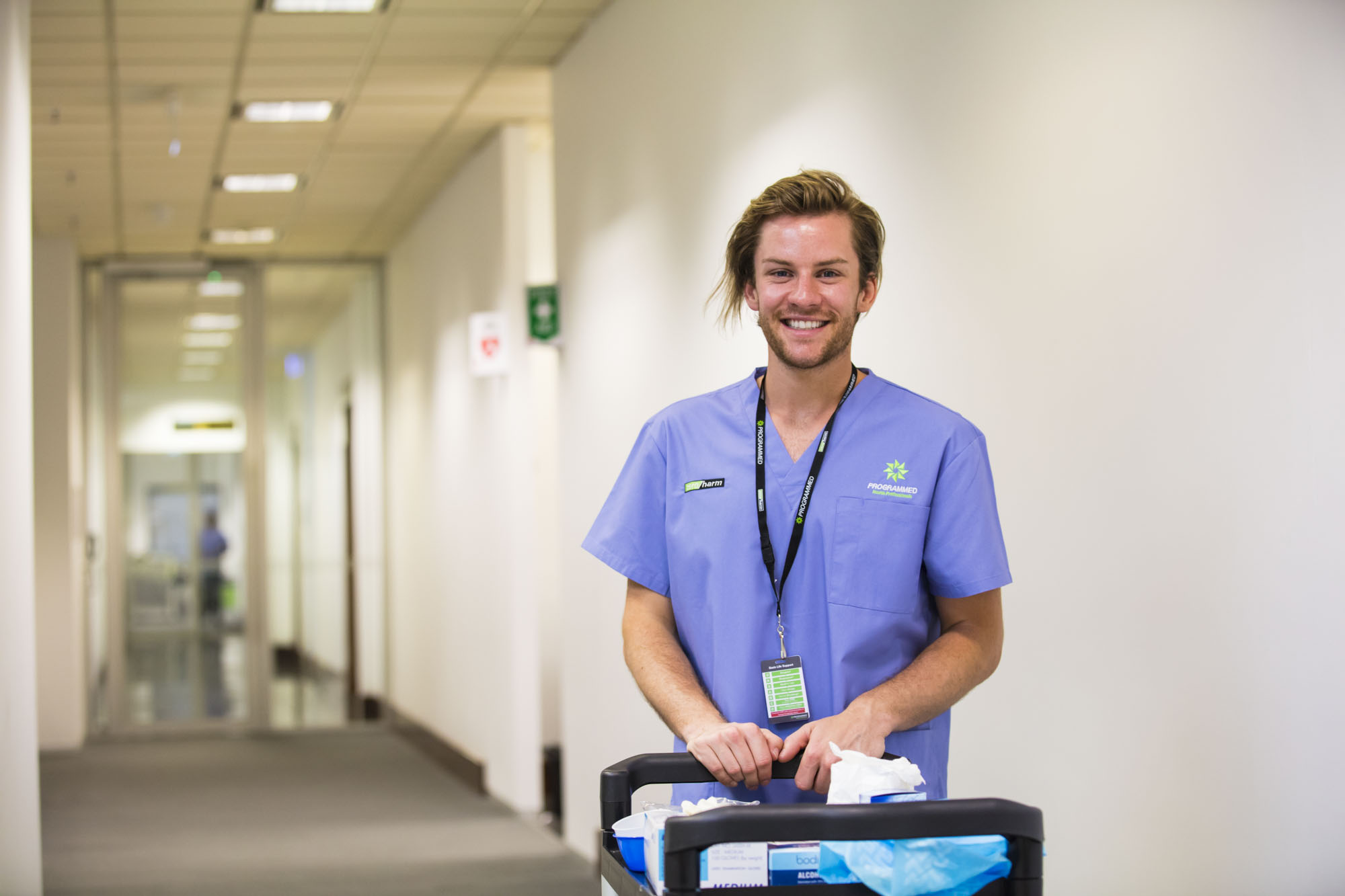 For graduate nurses, transitioning from the classroom to the workplace can often be a daunting process. One way to make the move a little easier is by gaining relevant industry experience, while you study. Working and studying can be a challenge but you'll certainly reap the benefits come grad year.
A study* published in 2016 found that nursing undergraduates who worked in a healthcare setting while completing their studies, showed more confidence upon entering the workforce as a graduate nurse. The study also suggested that new nurse entrants with no prior industry experience tended to be more susceptible to making errors due to work pressure, responsibility, environment and staff shortages.
Did you know that student nurses are eligible to work as a Support Worker after completing the first semester of their second year of study?
Registered Nurse, Daniel Turbill now working with Programmed as a Business Manager in Victoria, first gained experience as a support worker while completing his Bachelor of Nursing degree. "Working in healthcare while studying is a wise decision for any nursing student."
As a 22-year-old, Daniel wanted to apply his knowledge to real life situations, so he reached out to Programmed about a role that could fit in with his busy university schedule. Before long, Daniel was assisting clients with everything from personal and domestic care, through to transportation and attending medical appointments. Attending medical appointments allowed Daniel to expand his vocabulary and develop his communication skills, ensuring both the client and their loved ones had a holistic picture of their health.
"Working while studying is tough, but it really sets you up for a successful career in the field. I was able to put into practice all the skills I had learned at university which made my life so much easier when I started my grad year."
Since graduating, Daniel's career has spanned a variety of settings including ICU, Paediatrics and now Community Nursing, where he has had the opportunity to return to Programmed. Daniel credits his career success to the lessons learnt in those early years as a support worker.
Four key benefits to working with Programmed while you study
1. Put theory into practice
An overwhelming amount of theory is taught at university, and it can be hard to retain everything. Working as a support worker while studying can assist with applying some of the theory into real life situations. The Nursing and Midwifery Board sets clear guidelines around scope of role, so while you may not be able to complete certain tasks as a student nurse, exposure to new illnesses and complexities certainly assists in retaining that knowledge.
2. Experience challenging situations
Healthcare is one of the most rewarding work environments, but it can also present many challenging situations. Some clients are more susceptible to mood swings and may become confused and agitated without much warning. Exposure to a variety of clients will provide valuable lessons on how to identify the signs of oncoming challenges, and certain techniques to de-escalate a situation, should someone become agitated.
Learning how to read body language is an important lesson which can be difficult to learn in a classroom. Identifying certain behaviours can ensure you maintain safety with aggressive and violent clients, where certain behaviours may be caused by miscommunication, pain or incontinence.
At Programmed, the health and safety of clients and employees is paramount. If we have a client who is known to become aggressive, appropriate actions will be put in place to ensure the safety of our employees. A Workplace Risk Assessment will always be completed when inducting a new client and handover notes are to be completed at the end of each shift, highlighting any areas of concern. Staff must also adhere to strict safety procedures such as, applying de-escalation protocols and never allowing one's self to be "blocked in" to a potentially harmful situation.
3. Build relationships with health professionals
Working in the community exposes support workers to different healthcare professionals. Developing relationships and communicating with healthcare professionals outside of your field of study can provide a more holistic view of the healthcare system, and an understanding of how allied health teams work in collaboration. Programmed clients have regular consultations with Nurses, GP's, Specialists and other allied health professionals, many of which you will be required to attend.
4. Develop communication skills
One of the most important soft skills for any healthcare professional is communication. Although a large part of communication is vocal, other means of communication, such as body language, patience, positivity and emotional awareness should also be used to help you to engage with people more effectively.
As a support worker, you may communicate with a range of different people on any given day, from the patient and their loved ones, through to their treating health team. Learning how to effectively communicate with differing personalities and medical experience will prepare you for not only your career post-graduation but will also build critical communication skills transferrable to everyday life.
Disclaimer
No matter what your position is as a healthcare professional, you must always work within scope of your role. The Nursing and Midwifery Board of Australia sets clear rules based on your qualifications. Performing tasks outside of the scope of your role can be detrimental to not only your career but may also put your client in harm's way.
---
Programmed places nurses, carers and other healthcare professionals into a range of temporary, contract and permanent employment to suit all working preferences. Working with major public and private hospitals, facilities, and an increasing number of home care and community clients, we are well placed to find you the perfect role, no matter the stage of your career.

Contact us today to find out how we can help you find your next role.
Tel: 13 10 95
Or visit jobs.programmed.com.au