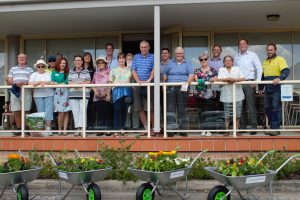 At Programmed, we believe it's important to go above and beyond for our customers, and to give back to the community. In December last year our team at Southern Cross Care's Cardinal Gilroy Village in Merrylands did exactly that.
Our Sydney Grounds and Building Projects teams were asked if they would donate some old, disused wheelbarrows, but they wanted to give something more than equipment that had seen better days. Instead, they purchased ten new wheelbarrows and helped residents turn them into vibrant flowerbeds.
The team also generously contributed the soil and the flowers so the residents could get start looking after their new gardens straight away.
Gail Piper is the Pastoral Care Coordinator at Cardinal Gilroy Village, and she has noticed the effect the gardens are having on the residents. She says they are now able to "express a renewed passion to create and nurture their little gardens without having to battle the physical limitations of ageing".
Southern Cross Care is a long term customer of Programmed Property Services, and the team has been working in the village providing a range of grounds, painting, and building refurbishment services. When the opportunity to help improve the lives of village residents arose the team jumped at it.
The wheelbarrow flowerbeds are encouraging residents to get outdoors and stay active by caring for the plants, without causing them any physical discomfit. Gardening is great for seniors; it helps keep them fit without requiring any strenuous exercise.
The flowerbed have also helped make the residents' lifestyle activities a little bit more environmentally friendly by getting them outside to take full responsibility for maintaining a small part of the village's environs. Planting the flowerbeds in wheelbarrows means they're portable which allows all the residents to care for them in a place that is convenient and easily accessible.
Gail says the residents are very happy with their new flowerbeds that wouldn't have happened without Programmed team members Rohan Relf, Murray Finch, Matt McGarry, Adam Smith, Josh Hollis, and Curtis Williams handing them over.
Well done to the Grounds and Building Projects teams for chipping in and donating to the community. Their contribution has made a big difference to the lives of residents in the Cardinal Gilroy Village.
[maxbutton id="1″ ]