In 2018 Programmed's three participants in the Australian Corporate Triathlon Series in Melbourne did an impressive job, but in 2019 the team returned bigger, stronger, and faster than ever with 15 competitors!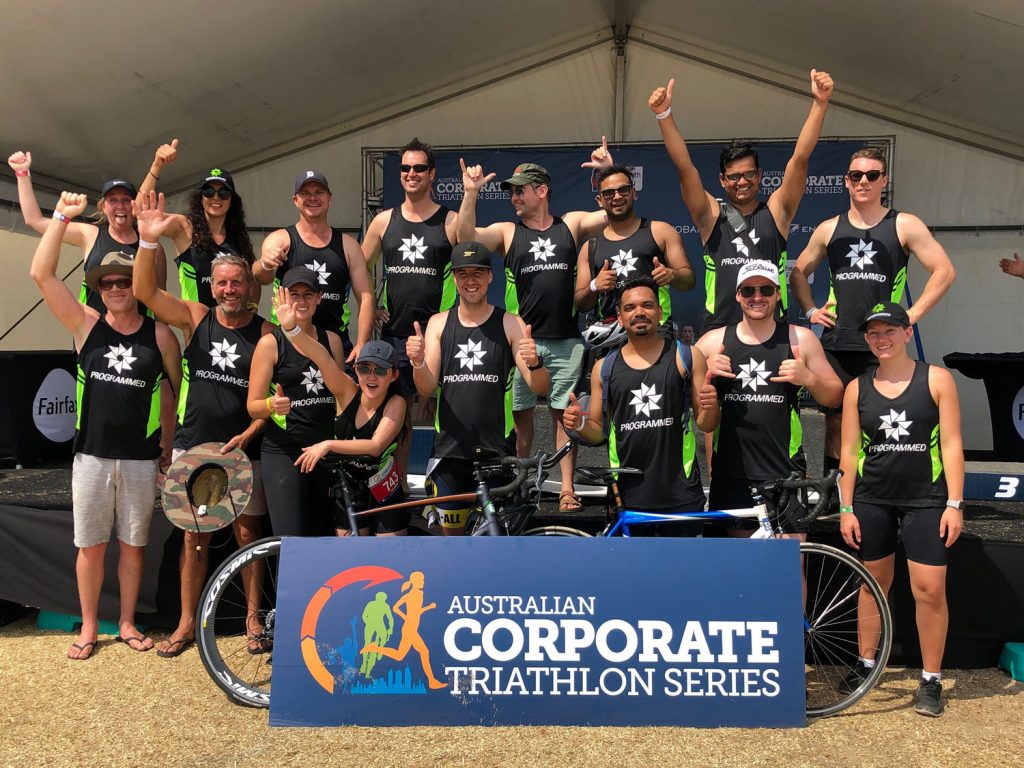 The event involved teams of three competitors completing a 400m swim, 10km cycle and 4km run. Five teams of three competed, made up of staff from across Programmed Property Services (PPS), Programmed Health Professionals (PHP), and Programmed Skilled Workforce (PSW).
Teams were configured around the capabilities of individuals. While some were confident enough to do all three legs of the race, others were not comfortable with the ocean swim or their ability to complete the long distance ride or run. In a great show of collaboration, various arrangements were made in each team to make sure everyone had a positive experience. With the teams in place, all 15 members began training on their own and sometimes in groups in preparation for what was, for most of them, an enormous challenge.
Rebecca Bleakley, who joined PPS early this year, after moving to Melbourne from New Zealand said, "it was such a great team building opportunity, not only on the day but training in the weeks leading up to it. I felt closer to the people within the team afterwards as we were able to share a feeling of accomplishment together after completing the event."
Lachlan O'Neill, from PHP also enjoyed his first event. "Completing my first corporate triathlon with members of the PPS team was a great way to bring business units together. I didn't realise the scale until I turned up. It was great to see all team members putting in their best efforts together," he said
"It was a great feeling running through the finish line of the Corporate Triathlon! The heat made it very challenging but we all cheered each other on," Jacinta Brideson, of PPS, said of the day.
It was a great show of camaraderie with more than 3,000 people from various corporations gathering at a beach in Elwood to participate in this annual event. Dressed in their own corporate colours, they cheered not just their co-workers but other participants too, pushing each other towards the finish line.
Team Programmed did extremely well this year, with many breaking personal records and a majority completing a triathlon for the first time.
Everyone is encouraged to participate next year and represent Programmed. PPS' Trent Bond is already recruiting teams, so be sure to speak to him. You don't have to wait until 2020!