The promising start to 2022 that everyone had hoped for quickly evaporated as the latest COVID outbreak on the eastern seaboard unleashed havoc across supply chains, distribution networks and construction projects.
Widespread absenteeism by COVID-affected employees has compounded the situation and made an already tight labour market even more challenging. There is likely to be more disruption before this wave passes.
Omicron has punctured (perhaps temporarily) the improving economic trend which saw most businesses quickly bounce back in the aftermath of the Delta wave.
Economic activity appears to have recovered in the December quarter, hiring was strong and many industries have been grappling with labour shortages.
The bounce-back demonstrated how rapidly most businesses have been able to recover, and the pent-up consumer demand that is waiting to be unleashed.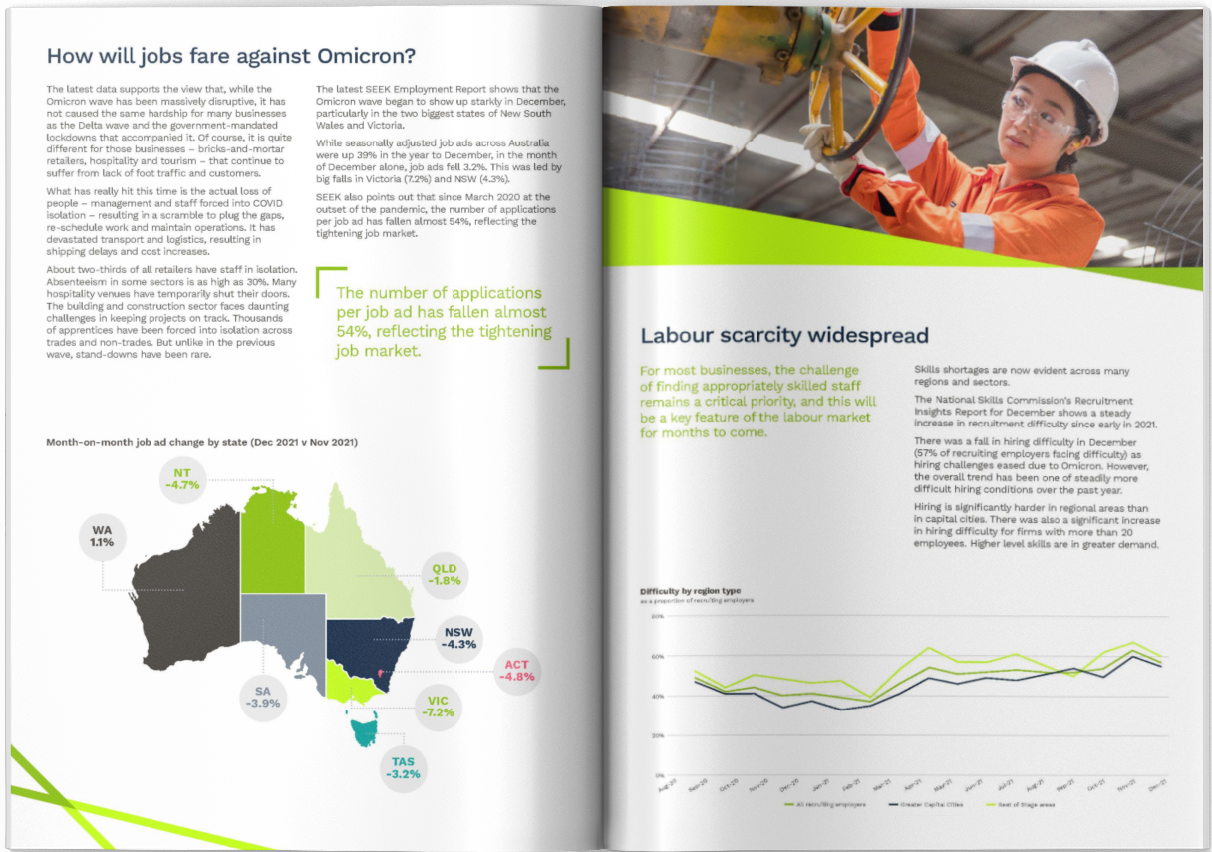 Download the report
This is an example download form for a report
"*" indicates required fields
Key takeaways
Unemployment rate hits a 13-year low of 4.2%
Omicron disruption hitting distribution, supply chains
Skills and labour shortages increasing
Employers report increasing hiring difficulty
Across the states and territories
NSW – saw a sharp 4.3% fall in job ads in December, according to SEEK, as the state experienced a big rise in COVID cases once restrictions were eased. NSW also has the highest proportion of employers expecting to increase staff numbers over the next three months.
Victoria – job ads dived 7.2% in December but the state recorded strong jobs growth in the final months of last year. Almost a quarter of employers are expecting to increase staff numbers over the current quarter.
Queensland – the state's unemployment rate is above the national average at 4.7%. Job ads fell 1.8% in December, but 23% of employers intend to hire more staff over the next three months.
South Australia – job ads dropped 3.9% in December as activity slowed. The unemployment rate is now below the national average at 3.9%, despite weak employment in December.
Western Australia – the state defied the national trend and saw a 1.1% increase in job ads in December as it maintained its tough border restrictions. It also boasts the country's lowest unemployment rate of 3.4%.
Tasmania – job ads fell 3.2% in December. Employment also declined slightly but the jobless rate remains relatively low at 3.9%.
ACT – job ads declined a fairly steep 4.8% as the spillover from NSW's COVID re-opening hit the territory. The unemployment rate hit 4.5%.
Northern Territory – there was a surge in employment in December – the strongest in the country – even though job ads were down 4.7%. The jobless rate sits at the national average of 4.2%.
Together, Programmed and PERSOLKELLY are the leading providers of staffing, operations and maintenances services across Australia and New Zealand and one of the largest workforce solutions providers in the APAC region.
From market-leading staffing programs to advanced people management, innovation and technology; we support your business to navigate and stay ahead of the rapidly changing world of work. 
Together our experienced, capable team of problem-solvers will help you achieve more.
If you would like to speak to a Programmed representative, please call us on 13 STAFF (13 78233) or visit programmed.com.au to learn more.