Job market tightens as economic recovery strengthens
Australia continues to experience an extremely tight labour market, with low unemployment, surging vacancies, and severe skills shortages that are contributing to higher costs for business.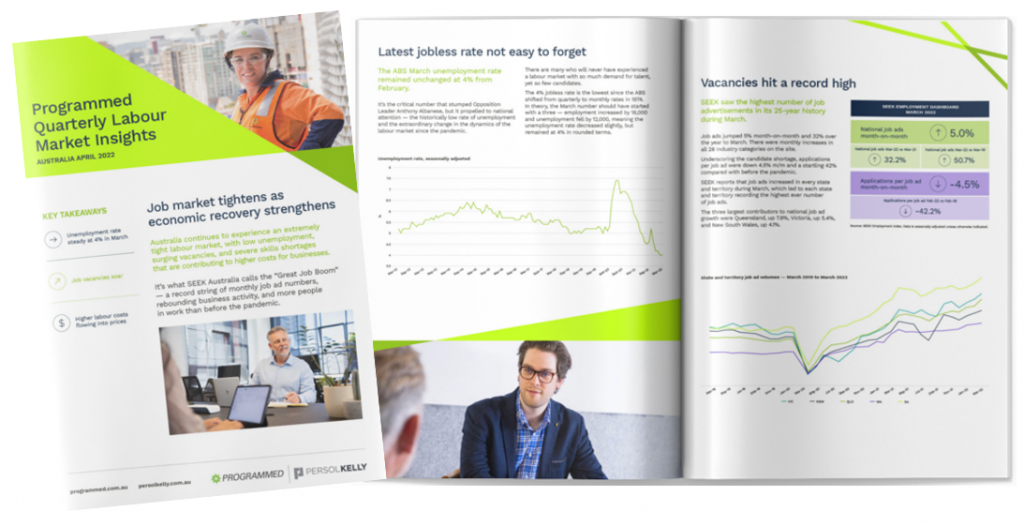 It's what SEEK Australia calls the "Great Job Boom" – a record string of monthly job ad numbers, rebounding business activity, and more people in work than before the pandemic.
Latest jobless rate not easy to forget
The ABS March unemployment rate remained unchanged at 4% from February.
It's the critical number that stumped Opposition Leader Anthony Albanese, but it propelled to national attention the historically low rate of unemployment and the extraordinary change in the dynamics of the labour market since the pandemic.
There are many who will never have experienced a labour market with so much demand for talent, yet so few candidates. The 4% jobless rate is the lowest since the ABS shifted from quarterly to monthly rates in 1974. In theory, the March number should have started with a three – employment increased by 18,000 and unemployment fell by 12,000, meaning the unemployment rate decreased slightly, but remained at 4% in rounded terms.
Key takeaways
Unemployment rate steady at 4% in March 2022
Job vacancies soar
Higher labour costs flowing into prices
Vacancies hit a record high
SEEK saw the highest number of job advertisements in its 25-year history during March.
Job ads jumped 5% month-on-month and 32% over the year to March. There were monthly increases in all 28 industry categories on the site.
Underscoring the candidate shortage, applications per job ad were down 4.5% m/m and a startling 42% compared with before the pandemic.
SEEK reports that job ads increased in every state and territory during March, which led to each state and territory recording the highest ever number of job ads.
The three largest contributors to national job ad growth were Queensland, up 7.8%, Victoria, up 5.4%, and New South Wales, up 4.1%.
A very similar picture is reflected in the National Skills Commission Internet Vacancy Index (IVI) for March.
Preliminary results show online job advertisements increased by 3.7% or 10,200 job ads in March to 282,400. Job ads were 24.1% higher over the year and 67.8% above the pre-COVID level. Job vacancies on this site are now at their highest level since July 2008.
Read and download our full Q2 Labour Market Insights report below.
---
Together, Programmed and PERSOLKELLY are the leading providers of staffing, operations and maintenances services across Australia and New Zealand and one of the largest workforce solutions providers in the APAC region.
From market-leading staffing programs to advanced people management, innovation and technology; we support your business to navigate and stay ahead of the rapidly changing world of work. 
Together our experienced, capable team of problem-solvers will help you achieve more.
If you would like to speak to a Programmed representative, please call us on 13 STAFF (13 78233) or visit programmed.com.au to learn more.