Designing a solution for users to find their way around a facility is no simple proposition. It's a science, incorporating the requirements of the property owners, the perspectives of personnel, visitors and in the case of hospitals, patients.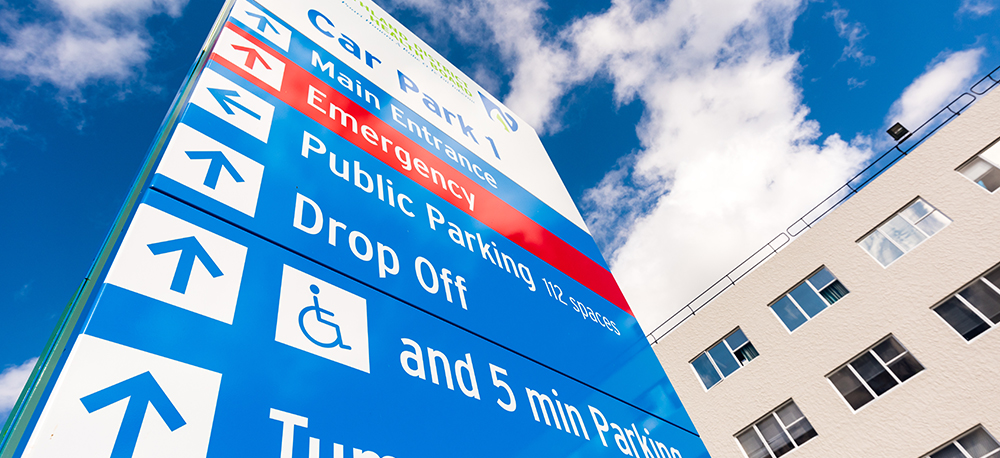 Hospitals and healthcare environments need wayfinding that facilitate efficient navigation and the strength of brand consistency combined with ease of maintenance. Their wayfinding strategy must incorporate important wayfinding principles so as to lead staff, patients and visitors seamlessly all the way through the facility.
Wayfinding that prioritises patient needs
Within the healthcare environment, patient needs must be prioritised in wayfinding strategy and signage implementation. Hospitals are often complex, expansive sites, spanning both indoor and outdoor areas, with fluid spatial use. Poor wayfinding systems render patients unable to navigate complex buildings, leading to confusion and distress.
Wayfinding that reduces stress and frustration
Rather than aggravating stress levels of patients, a properly designed, comprehensive signage strategy can ensure patients arrive at their appointments on time and stress-free. Visitors are also able to reach their intended locations in a positive frame of mind. High levels of patient satisfaction and comfort can be achieved when signage focuses on ease of navigation and improved wayfinding.
Wayfinding that facilitates productivity
Well-considered wayfinding facilitates better productivity. Inefficiency in service delivery is minimised when hospital staff can concentrate on actual patient-related responsibilities instead of having to constantly guide patients or visitors through the building. A good wayfinding system lays out intuitive journey paths for patients to induce familiarity in their environment, reducing the need for staff intervention. This increases productivity and builds morale.
Wayfinding that reinforces consistency of care across multiple sites
Many hospitals feature multiple sites within their property portfolio. Consistent signage throughout the different properties provides unity. This reaffirms the fact that all facilities administer the same high quality care and professionalism, regardless of location or what services patients use. Therefore it is useful for healthcare providers to always maintain a wayfinding strategy developed to strategically preserve brand integrity and design consistency across all sites. The implemented signage should also feature uncluttered messaging that is simple to understand and consistent from the point of arrival through to the intended destination.
Wayfinding that is easy to maintain
Dynamic spatial use in hospital environments requires wayfinding strategies with an instinctive ease of maintenance. Their signage systems must mirror this element of the wayfinding strategy. A signage manual helps to preserve the rigour of the ensuing system. Sign types are identified, fonts and colours specified, while guidelines for design and messaging are prescribed. These help retain uniformity in the years to come despite any future room name changes, construction or even the acquisition of additional sites.
Wayfinding that is cost-effective and sustainable
Modular signage systems with virtually limitless design options to suit any directional changes or information requirements are other ways operators of healthcare environments can accommodate significant site changes within any given period of time while eliminating the need for expensive sign replacements.
How can your wayfinding strategy be tweaked to make navigating your facility smoother or easier? Chat today with Programmed. Our team are experts at helping our customers make getting lost a thing of the past.