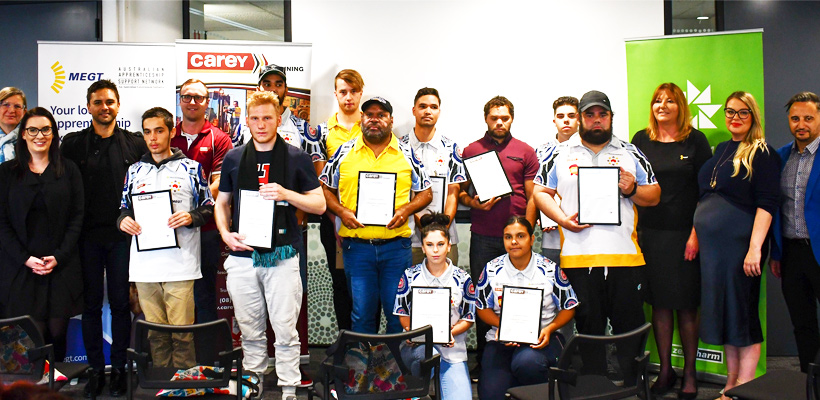 Recently Programmed participated in the SA 'I Got Built Program', a specialist pre-apprenticeship program for young Aboriginal and Torres Strait Islander people. Over eight weeks, participants worked towards gaining a nationally recognised qualification in building and construction.
In partnership with MEGT Australia, Carey Group, Indi Services, and the Department for Innovation and Skills and Local Jobs Program – Adelaide North, the programs aim is to give participants hands-on experience to provide them with the confidence to kick-start their careers.
Learning on the Job
To earn their Certificate II in Construction, students split their time between the classroom and on-the-job learning. The course covers a range of subjects, from carrying out measurements and calculations to using tools and equipment and applying OHS requirements, policies, and procedures.
Students also received resume and interview training and completed their White Card. A White Card is a mandatory Work Health and Safety requirement for working on a construction site.
Engaging with the Students
Together with other industry professionals, our Programmed team guided the seventeen students through the program. They passed on the skills and knowledge needed to perform various support tasks relevant to many worksites.
To put their theory into practice, students engaged with Programmed partners. They worked together to refurbish a vacant SA Housing Authority property.
Kick Starting the Tradie Kit
Programmed supplied students with Personal Protective Equipment (PPE) to protect them from health and safety risks on the job.
PPE is an essential component of a tradie's kit. We are happy to be supplying them with things they need to start their new careers in the construction industry.
Congratulations to the I Got Built graduates. We are so proud and wish you the best of luck in your new careers!
At Programmed, we are fortunate to be a part of communities like SA Housing. We look forward to partnering in more of these fantastic initiatives in the future.