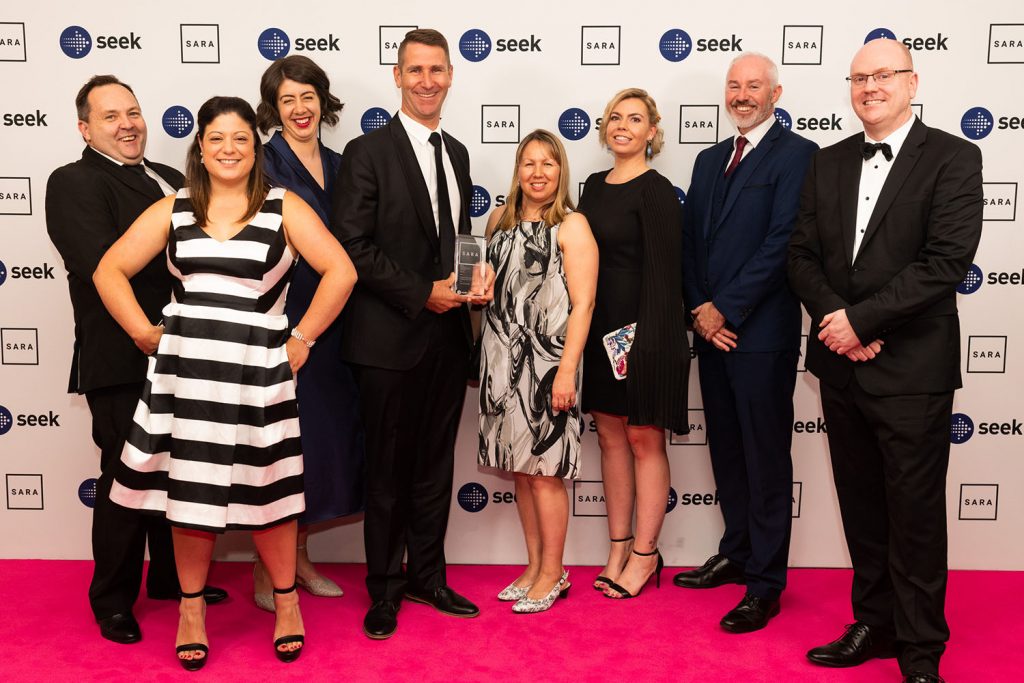 Thanks to the great work that each of our team members do every day, Programmed Skilled Workforce (PSW) has been awarded 'Large Recruitment Agency of the Year' at the 2019 SEEK Annual Recruitment Awards (SARA).
The team also came runner-up in the Most Innovative Agency of the Year categoryfor the Dashboard!
For the award submission, we had to demonstrate our commitment to culture, innovation, growth, candidate engagement and our contribution to the recruitment industry, as well as any initiatives implemented in these areas.
We had so many strong examples for each area to draw on. For example, our Young Worker Program's achievement in contributing to the safety of young people across industry. To demonstrate growth, we highlighted all that our NETTS program has achieved since its inception, including growing by another partner company this year.
Accepting the award on Programmed's behalf, David Hele acknowledged all the great work that happens across our organisation and the wider recruitment industry.
"We are so very fortunate to have so many great people across our business, dedicated, committed and passionate about supporting our employees and servicing our customers. This award also celebrates the great work delivered by our over 15,000 employees, who each have a great story to tell and inspire us daily."
PSW CEO Nic Fairbank says he was thrilled that our business has been recognised for our commitment to quality and innovation.
"Seeing our teams so engaged on our journey, it is great to see their hard work being recognised. My congratulations to all the runner's up, the finalists and winners this year, across all categories."