Universities shape the future. Through education and research, they mould thinking, influence policy, and spur innovation. Their physical footprint must support this through environments conducive for discussion, discovery and collaboration. Successfully establishing this involves harnessing the four P's of university maintenance: Presentation, Protection, Preparation, and Partnership.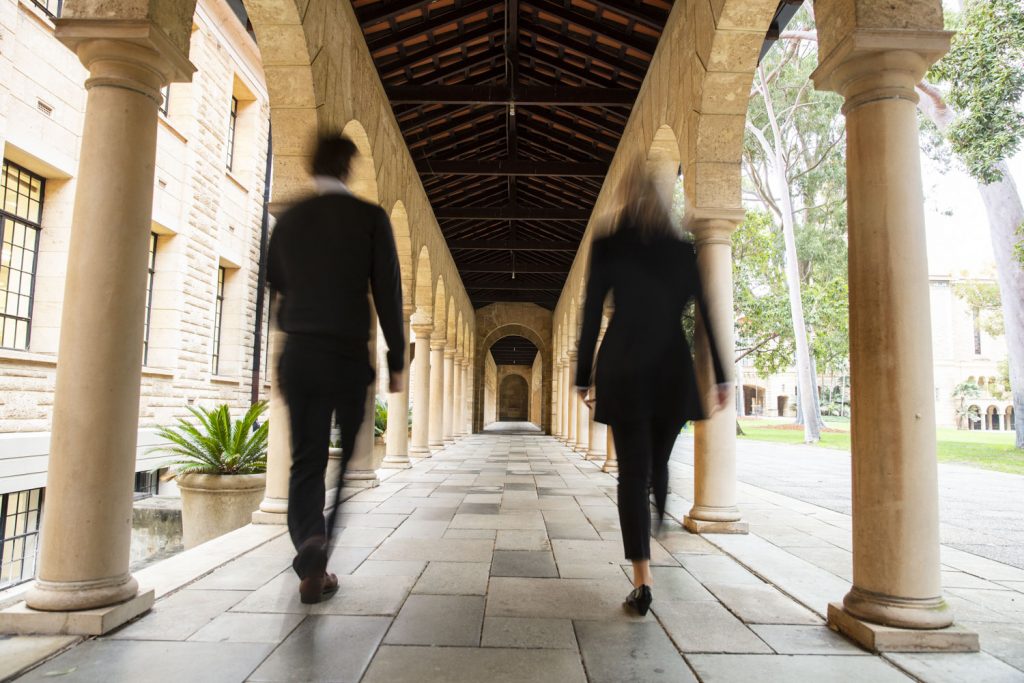 Presentation
This keeps universities looking their best at all times.  Impressive external presentation incite feelings of awe and pride in both faculty members and the student body. Correspondingly exciting interior spaces entrench this feeling of noble belonging where airy, bright areas combine with modern technology, architecture and furniture in on-trend colours. All to make the on-campus experience stimulating for learning.
From laboratories to gardens, auditoriums to student lounges, each facility adds to the many facets of university life, making the continuous upkeep and presentation of assets key.
For these, key maintenance avenues include cyclical washing and preventative painting programmes, grounds maintenance and an expertly designed suite of unified wayfinding.
Protection
Safeguarding built and physical assets ensure their optimal and on-going functionality. Maintenance developed around individual asset types and conditions utilising lifecycle planning in conjunction with current and predicted asset conditions makes certain decisions are informed so that implementation can be targeted. These pre-empt breakdowns, help avoid the need for constant repairs and stave off expensive replacement costs.
Integral to protection is risk mitigation. For universities, this encompasses everything from ensuring the safety of students and staff, to making certain regulatory building compliance.
Where such knowledge is not immediately found among university personnel, the advice of professional facility management experts can be useful. Such businesses deal with risk and compliance issues on a daily basis for organisations within the university sector and beyond. Their insights and experience can help universities leapfrog current understanding, capabilities and compliance in a short time. With so much at stake for a university in terms of risk and reputation, this external expertise can prove extremely valuable.
Preparation
The acceleration of digitisation and technology as disruptors means that universities have to act today to prepare for tomorrow. Considering the inevitable changes and challenges surrounding pedagogy and delivery, hardware, software and all aspects of integration need to be assessed, upgraded or changed in anticipation. So too the notion of 'learning spaces'. As perceptions of these change to include remote delivery and collaborative learning where parties in different locations participate simultaneously in both the teaching and learning aspects, the physical form and function of classrooms and tutorial areas will also need recalibrating.
A holistic continuum between space, the built environment, and pedagogy is required. To respond nimbly and effectively, universities will need to integrate the demands on technology, connectivity, infrastructure, and space utilisation in time to come into current capital works.
Partnership
The ability for supplier partnerships to deliver value add almost goes without saying. This has additional import when it comes to maintenance, as the outcomes of successful maintenance can only be seen after an extended period of time. The best outcomes are reaped through 'right fit' partnerships with long-term horizons and a full commitment to ensuring on-going results.
These may take the form of intuitive maintenance management on behalf of the university freeing university personnel from having to be involved in the smaller details. Such maintenance is instinctive, able to address current requirements while simultaneously implements the groundwork for future improvements, all the while making sure the university is kept informed.
It supports, rather than disrupts, campus routines or activity; is innovative so that processes and methods are continually improving; and seeks to provide a simplified means of implementation, even when the overall requirements may be complex.
The ability to realise and deliver this is found only among a select group of providers who are familiar not just with maintenance, but also maintenance within a university environment.
Programmed is a partner that understands universities. Out of 51 universities across Australia and New Zealand, at least 32 have worked with us.
Speak to Programmed today for facility maintenance, site presentation and asset management that is uniquely tailored to the university environment. Ask about our proprietary University Distinction Program developed specifically to help universities with convenient, affordable and sustainable maintenance in a time of uncertain and restricted funding.
[maxbutton id="9″]