Sports are key facilitators of Positive Education for their ability to strengthen relationships, build positive emotions, enhance personal resilience, promote mindfulness and encourage a healthy lifestyle. That's why more and more schools are today placing greater emphasis on getting their sports facilities, turfed areas and ovals into great shape. These not only sets a school apart, but its students too.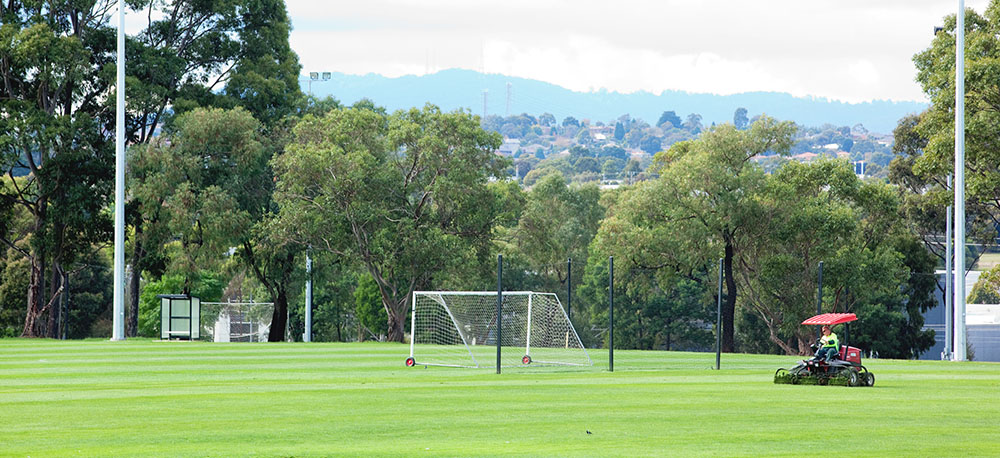 Show off the prowess of your school's sporting capabilities with turf and grounds that impress on sight. It demonstrates an all-around focus on education and personal development so students can feel good and do well. It doesn't matter if you have a small oval or one geared towards hosting competitions of international standards. What counts is making them equally exceptional to play on.
Health and durability of the surfaces are aspects frequently topping the maintenance priority list, but there are other areas schools can look into with regards to great sports grounds.
The key to making your sports fields fantastic lies in the ability to tailor and scale your turf maintenance to meet your needs.  This means a focus that goes beyond just task-based activities. A better approach would be a holistic view, one that takes into consideration maintenance as well as your sporting calendar, the seasons and the relevant sports played then, and even, how to make your sporting fields important income generators.
Let's examine these individually:
1.       Sporting Calendar, Events and Activities
Looking after your sports turf means forward planning. Proper turf maintenance will ensure your grounds are best presented at key moments. The last thing you want is a poor looking playing field on event days. Rather, show off impeccable sporting grounds to awe visitors and impress parents when hosting interschool sports carnivals. Achieve this with planning and management – not just maintenance – that takes into consideration fertilisation to optimise health and thickness in anticipation of events; the evening out of surfaces prior to events (also minimising risk of on-field injuries); drainage and irrigation so ovals and fields are not soggy nor muddy.
Additionally, incorporate key preparation activities such as line marking for fields and athletic tracks into the maintenance timeline, and protect your fields with post-event restoration works to minimise damage from the additional footfall.
2.       Seasons and Seasonal Sports
Often the window of change from one sporting season to another, say footy to cricket, is very small. Within a matter of days, schools will have to remove goal posts, mark up fields and prepare the wickets. With proper planning, maintenance and management, you would have prepared the resources so the changeover can be quickly implemented, and the relevant turfed areas prepared with equal speed.
3.       Income generation
Who wouldn't enjoy increased cash flow? Many schools now view their sports fields as income-generating assets, hiring these out to third parties and sporting groups. To be able to do this, schools will need to meet the standards and expectations of these third party stakeholders by bringing the quality and presentation of their turf and sporting areas up to a higher level capable of hosting games and competitions, one where even these external parties would be proud to call their home ground.
Proper management, foresight and long-term planning. These will result in sports fields with continued healthy surfaces, underpinned by growth strategies able to deliver turf that is perennially lush, green and strong. Early identification of fungus or diseases are also key, as is the ability to take corrective measures early on so these don't become full-grown problems. Discreet practices such as traffic management to keep students from treading on fields ahead of key sporting events, but still not impacting daily use are also turf management secrets for achieving luscious green ovals. As is of course, a good dose of tender loving care.
What do you really want for your sporting grounds? Programmed has horticulturists who are also avid sports people. We combine our passion for grounds and the game to bring you superior results. See what we can do for your sporting turf in this downloadable brochure or chat to us today, because positive results matter.