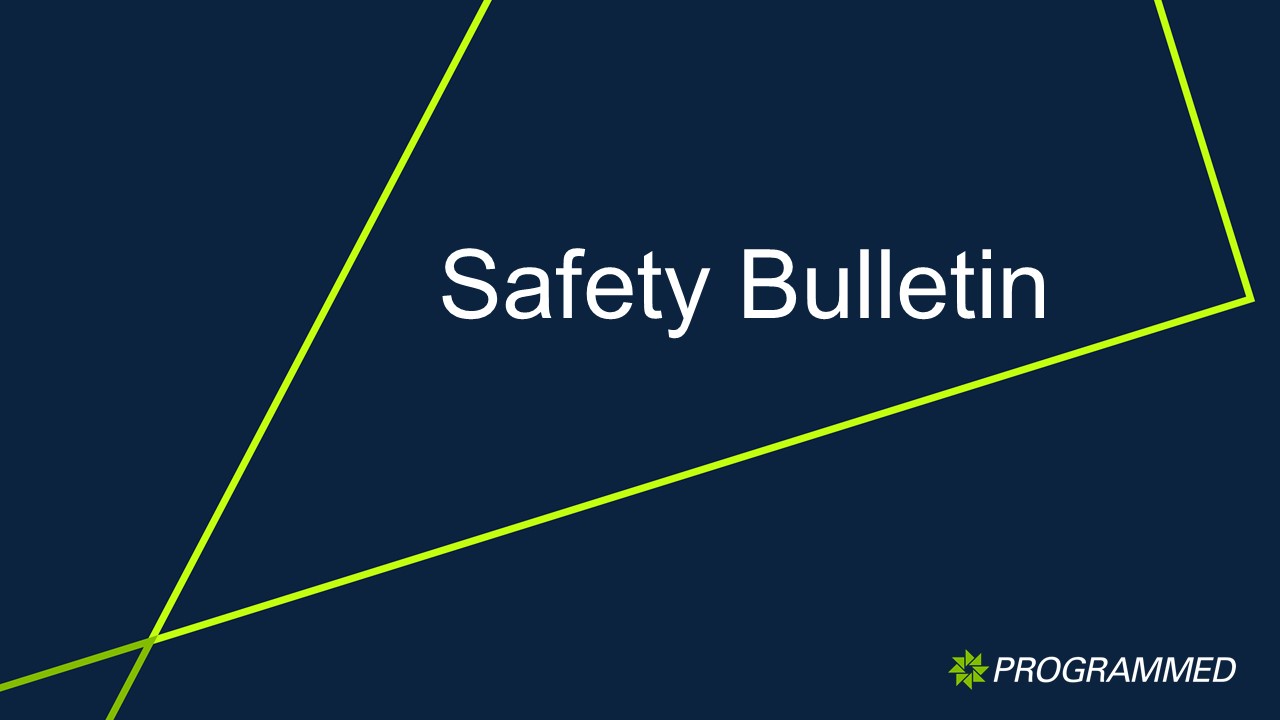 Forklifts, industrial lift trucks and other mobile plant are regularly used throughout businesses, providing a practical solution to handling materials and minimising the need for excessive manual handling practices. The operation of forklifts is high risk and continues to be associated with serious injury and workplace fatalities each year.
One of the key hazards associated with the use of forklifts is the potential to come in contact with pedestrians in the same vicinity.
At Programmed, there have been a number incidents in which a forklift operator has made contact with a pedestrian resulting in a serious injury or having the potential to cause serious injury.
Preventing Forklift / Pedestrian Interaction
The best way to protect people from injury when working around forklifts is to make sure forklift and pedestrians cannot interact.
Some examples of how physical separation can be achieved include:
Overhead walkways (vehicle movement below)
Barriers/guardrails at entrances, exits and walkways
Temporary barricading
It's not always possible to prevent interaction between forklifts and pedestrians and where this cannot be achieved, alternative measures must be implemented to minimise interaction.
Some examples include:
Preparing a traffic management plan outlining the control measures to minimise forklift/pedestrian interaction
Clearly defining walkways for pedestrians
Identifying 'no-go zones/exclusion zones for pedestrians
Identifying delivery driver 'safety zones'
Providing a separate entry/exit for forklifts and pedestrians
Scheduling work to prevent forklift and pedestrians from occupying the area at the same time
Using equipment such as speed-limiting devices and sensors to alert pedestrians a forklift is operating close by
Developing safe working procedures and training operators in accordance with the requirements for the specific work area
Implementing systems of work to prevent forward carrying of loads if they obstruct the operator's view
Operator Actions
As an operator of a forklift with shared zones and pedestrians occupying the same space, caution must be taken.
Following safe work practices such as adhering to speed limits, utilising horns and other audible devices and maintaining visibility will all assist in reducing the likelihood of impacting pedestrians.
Where there are hazards involving the interaction of forklifts and pedestrians that have not been adequately managed, make sure you speak up and communicate to your Supervisor so that action can be taken to control the risk and prevent serious injuries.
HSE Representative: Dan Hunt
Date of Issue: 12 April 2021
Download article
82 – Forklift and Pedestrian Interaction