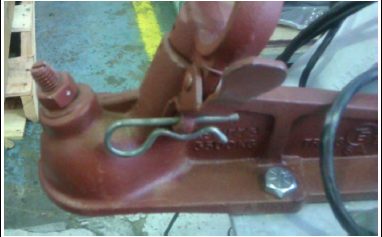 Incident Overview
While towing a trailer mounted water blaster to the depot, the driver crossed a raised pedestrian island. The sudden impact with the raised road surface caused the hitch to come off the tow ball and come to rest on the safety chain.
The driver refitted the hitch and drove the rest of the way at a cautious and slow speed. There was no safety pin or locking feature engaged to the tow ball hitch.
The event was reported, and the subsequent investigation identified that the "R" shaped safety pin had routinely been missed and pre-start checks on the trailers were not occurring.
As a result of this, a quantity of safety pins, shackles and similar minor fittings were purchased and distributed to each van. During tool box talks, staff were reminded about the drivers' responsibilities to check their vehicle and tow equipment to ensure it was safe on each and every occasion they used trailers.
Housekeeping & Order
Prestart checks are required for all plant, no matter its size or frequency of usage. Plant must be inspected to ensure it is fit for purpose.
Positions of People
When the trailer is being connected, position your body so that it is not in the "line of fire" and clear of any potential crush hazard.
Protective Equipment
Always fit the safety device i.e. safety chains and hitch locking devices. These ensure the trailer doesn't decouple.
Rules & Procedures
All staff using trailers must be trained in and adhere to the process outlined in the PWP for "Trailer or Mobile Plant Hitching".
Tools & Equipment
Drivers must review the trailer, checking items on it are secure, the trailer connections are present, engaged and secure before driving off.
HSE Representative: Tony Higgison
Date of Issue: 17 August 2020