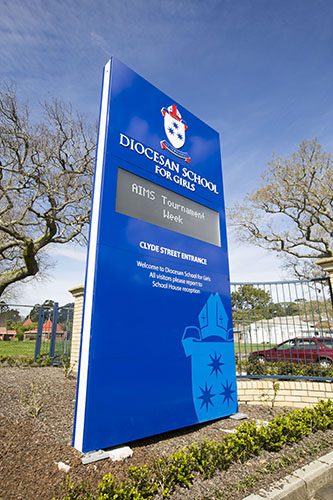 When done well, pylon school entrance signs can be extremely effective at building awareness of your school's brand within its community. And with the addition of an LED panel, they can also provide the opportunity to communicate different sorts of information in real-time.
However, when done poorly, these signs can actually have a detrimental effect on the brand your school has carefully built-up over the years. School entrance signs that haven't been well thought out can fail to communicate with their audience, and can also cause other unexpected headaches.
To help you avoid a costly mistake when planning your school's next entrance sign, we've put together the list below of things to consider.
1. Employ a designer who specialises in signage design.
It's a common mistake made by schools to get someone to create signage who doesn't actually specialise in signage design.
Sometimes the company who is manufacturing the sign is also engaged by the school to design it as well. Generally speaking, manufacturers are just that, they're often not designers as well. These companies may know a great deal about manufacturing signs, but are not so good at designing signs that work well.
We often see designs that are too busy to communicate anything succinctly, or others that include elements outside of the school's brand, thereby reducing the impact of their branding. Those responsible for the design need to understand how signage works, how to best communicate and direct people around, as well as the importance of designing signage that's within your school's brand guidelines.
2. The biggest and brightest is not always best.
Schools with large budgets might mistakenly assume they need an entrance sign to match.
In many situations, a large pylon sign is the appropriate choice to reinforce the school's brand amongst their community. Though in others, a smaller monolith sign might be more appropriate.
During evening hours, illuminated signs can make a big impression with passers-by. Although it mightn't be necessary to spend the additional funds if few people will actually see it. Plus, you might not even be able to get council approval if it's going to be situated in a suburban area.
If it's appropriate to illuminate your sign, you then have to decide how you'd like to do it. Will the sign be illuminated by LED or by a spotlight, and would you consider solar to power it or just use electricity via the mains?
3. Don't assume a pylon sign is just for entrances.
Pylon signs are used to attract attention and reinforce your school's brand. And the ideal place to do this might not necessary be at your entrance gate.
For instance, the prestigious St Kevin's College in Melbourne decided to place its main signage in a different location to its entrance. The school backs against the Monash Freeway, so their pylon is located deliberately where it can be seen by the thousands of motorists travelling along the freeway every day.
4. Consider the probability of vandalism.
If your school is situated in an area where your new expensive pylon is likely to become a victim of vandalism, then certain elements should be incorporated into the design to combat it.
There are a few things you can do to make it harder for vandals to cause damage and easier to repair if damage does occur. For instance, important information can be placed out of reach and features such as easily replaceable lower panels can be added to replace what can be reached.
Additionally, anti-graffiti coatings and different qualities of paint can also help reduce permanent damage to the sign.
5. Incorporating a LED messaging panel? Then you need to think about how, who, what and when.
Many schools are adding LED messaging panels to their entrance signs as an effective way to communicate to students, staff and the public.
If going down this path, you'll need to decide how you want to control the displayed messages. Do you want to do this remotely in the office, or is the cheaper option of having to do this at the sign itself much more viable?
You'll also need to determine who will be responsible to do this and what do you actually want the screen to say, when and how often.
6. Get professional advice.
A professional signage company should take all of this into consideration and provide advice on what is best for your school and budget.
It's vital to take a holistic approach when planning any new signage. The environment in which the sign will be placed, the location of your audience and their typical behaviour, as well as the goals your school is wanting to achieve all need to be carefully considered in order to get the most out of your investment. A good signage company will help you achieve this and more.
Contact one of our signage specialists today if you would like more information on school entrance signs.