How to search and find a job on the GO!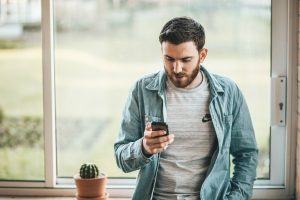 These days, finding the right job no longer needs to mean hours spent flipping the pages of the local newspapers or trawling websites only to find the job for you is no longer available, is based a long way from home or requires qualifications you don't have but weren't advertised.
Thanks to the many mobile Apps now available, job hunting has never been more simple, and we can search when and wherever we like. Commuting, watching television, over coffee, on the train and according to a study in the US by Statista, the most popular place to search for jobs using a mobile is in bed.
But how do you know which App is your best source for jobs that are right for you? Here are three of the best.
1. Programmed GO – All in one job search, application and management
The Programmed GO job search and management App by leading Australian staffing and recruitment agency Programmed, is fast and simple to use. Just download, register your details and start searching by location and role type. Jobs are listed and available in real-time, meaning you can apply today and could be working tomorrow. And applying for jobs is easy! Just hit 'apply' select your uploaded CV and away you go. Best of all, once you're employed, the Programmed GO App becomes your place to view and download payslips and access important business updates and safety notifications. You can view shifts, clock on and off and report safety incidents. New jobs from around Australia are listed daily.
The App is free to download and available on both iOS and Android
2. LinkedIn Job Search
According to LinkedIn, those who apply for a job within the first day of it being posted are 10% more likely to get the job, so it pays to stay connected when you're job hunting. LinkedIn's job search App allows you to search and apply for jobs across the globe, it will recommend jobs suited to your skills and help you research the employer with a few simple clicks.
The App is free to download and available on both iOS and Android
3. Seek Jobs
The Seek mobile App replicates the desktop experience in a simple and handy mobile-friendly format. Search jobs by keyword, industry or location and set-up email alerts for your preferences. You can upload multiple CVs and research employers by reading real reviews from employees.
The App is free to download and available on both iOS and Android
Most importantly, no matter which method you choose to find the right job for you, make sure your resume and contact details are up-to-date and you're always looking to improve your skills and your chances of job hunting success through training.
---
Programmed is a leading Staffing and Maintenance organisation, providing staffing, professional, technical, training and maintenance services across Australia and New Zealand with more than 20,000 employees supporting industry.
Are you ready for your next career opportunity? Browse jobs here