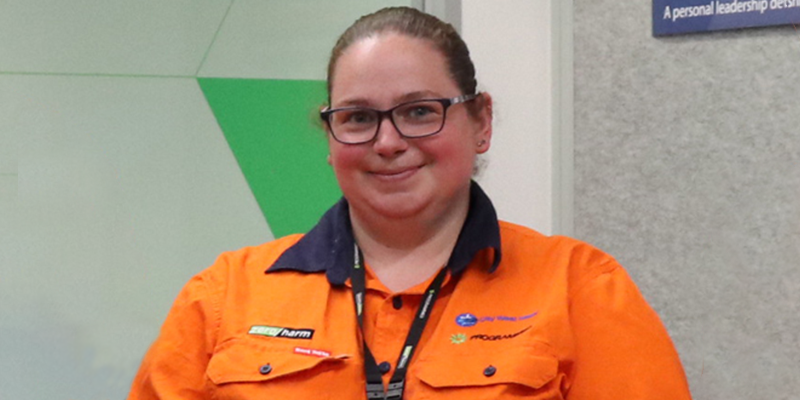 Having checked in on Chris earlier in the week, we made sure to catch-up with Christina, who had also started out as a cadet.
Christina is at our customer, City West Water, where she originally completed her cadetship in 2018. Since that time, she's been busy getting across all aspects of the business. We caught up with Christina to hear how she was doing.
How are you going with all that you've learnt?
I'm doing well, thank you. I've started my apprenticeship in Civil Construction and was then able to get a full-time position as an Operations Support officer. I work in the office, and it's my job to read the construction plans and work out what permits are required across a job. Having had time out in the field has helped with this task, as I know what a day would look like out on a site, and so reading the plans makes more sense.
That sounds great. Tell us more.
Through my work in getting all the required permits, it means I'm having to contact a lot of councils, be it via phone or online. I've been able to build up relationships with the people in the councils, which has meant speeding up the process, as I now know what is required before I even start. There can be a lot of red-tape to navigate through, but I've learnt a lot along the way and can now drive that rather well.
Part of applying for the permits is being able to plan and work out all the possibilities that could happen on the job and then ensure we apply for and have the relevant permits. Some jobs can be pretty straightforward, but others are more complex, and I've been able to develop a process to assist with these more challenging jobs.
---
I want to share the knowledge I've picked up while working on site permits. Help others as they navigate the systems.

Christina Girvan
---
So, what are your future plans?
With the processes I've learnt in getting permits and looking at site maps and working out requirements, I'd like to share that knowledge. I've spoken with my supervisors, who have also been great mentors, and we are looking into creating a training program for roles, similar to mine. Our team is leading the way in permit reaction. A big part is teaching people to step back, look at the plans and get all the info. It sounds simple on the surface, but it's the finer points that I can teach others.
Thank you for your time, Christina, it's great to hear how you have progressed in your career and that you've found an area to grow and knowledge share for the company.