Forty senior students from Port Hedland Senior High School recently experienced a taste of life with a mining career as part of the Programmed Training Services Career Pathways program.
In partnership with BHP and Port Hedland High School, Programmed provided the opportunity for these year 10 and 11 students to complete work experience on various BHP sites operating in their local area.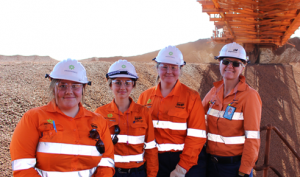 The Career Pathways Program aims to create a better understanding of the variety of mining career opportunities for young people and encourage students to consider staying in the Port Hedland area after high school.
The Port Hedland area is experiencing a shortage in both qualified people and trainees in the mining industry, with many families moving to Perth for ongoing career opportunities.
Many of this year's participating students have family members working onsite and were appreciative of the chance to see how it all worked, and understand what a typical day is like.
In addition to experiencing life on a work site, students were also interviewed for their position, they received special uniforms and participated in Programmed's STARTsafe program, formal induction and information sessions.
Students were able to design their own work-based learning program based on their interests including the opportunity to experience working life on ships and ship loaders. They were exposed to both ATAR (university) and Vocational opportunities during the program and some of them they saw and experienced more of the site than many full-time employees have seen.
Steve Esmonde, Programmed Area Manager said these students came to site wanting to understand the employment opportunities available to them when choosing their career pathway and they have walked away with much more.
"The students have not only been inspired by the opportunities they have seen on site but also met some incredible mentors," said Steve.
The program managers would like to say a special thanks to BHP Rail who opened their departments to the students, as well as Programmed's Flashbutt, Mooka and Nelson Point departments.
Planning for the 2019 program is already well and truly underway as more students consider a career in mining.
The Programmed Training Services Career Pathways program was shortlisted for a Safety, Health, Diversity and Community award as part of BHP's annual awards program.
---
As Australia's largest provider of trades and technical workforces, Programmed is proud to be nurturing the workforce of the future by delivering specialised training services.
Programmed Training Services is both a Group Training Organisation (GTO) and Registered Training Organisation (RTO 110043). We assist customers in upskilling their workforce through technical and vocational skills training.
If you'd like to talk more about a specialised training program for your organisation, contact us