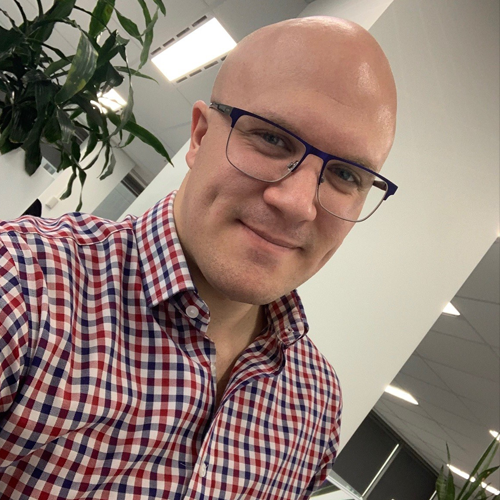 We're committed to creating a diverse, inclusive and positive workplace. Our teams are reflective of the communities in which we operate, and we value the unique contribution each member makes to Programmed.
Benjamin Wootton is our Account Manager based in Altona, Victoria. This is his story.
What has been your path to Programmed?
Previously I have worked in mining, finance, hospitality, and a host of other industries – mostly in roles with an element of people engagement. Enjoying the human interactions in my roles the most, I sought out entry opportunities in the field of recruitment and HR, which is when I applied to Programmed.
When joining, my yet-to-be manager discussed the training and development opportunities with Programmed, which I have had the opportunity to partake in since. In my first week, I joined many others in training across all areas of Programmed – it was engaging and thorough, setting me up for success. I've gone on to do mental first aid training, fire warden, first aid and leadership training with Programmed since. I now train and oversee the onboarding of new Account Managers into the Melbourne Metro team.
From Recruitment Consultant & Account Manager, there is plenty of opportunity with Programmed to grow and develop your career!
Was it challenging to change careers, and how did Programmed help with the transition?
As someone that has altered careers and industries many times, I understand how daunting it can be to make a change. With Programmed, however, my onboarding was very welcoming. I was given all the time I needed to learn the requirements of the role and my new career. I was always able to ask questions and never felt like I didn't have support from my colleagues and manager.
Biggest lessons learnt in your career?
The biggest lesson learnt in my career is that career change is good and healthy for your development and wellbeing. If you're not finding meaning or satisfaction with what you are doing now – seek out opportunities that encourage you to do the work and be the person you have always wanted. For me, that change was joining Programmed.
Best advice you were given?
The best advice I have been given is to find the learnings in your successes and failures, for they will be key to your future accomplishments.
Why Programmed?
The very supportive and inclusive environment. My team is like my second family, we are very close and work great together! We have many challenges we face but get through them as a team.
We are incredibly supportive of those wanting to join and develop their career with Programmed. We offer many pathways across our various divisions, which means that there is a spot for everyone to find their place. We are one big family and love adding new members!
I've now passed my two years with Programmed; in this time, I have been able to work from home and make client appointments on a manageable schedule whilst still able to attend to personal commitments that might otherwise not have been able to make. I also have a one-year-old daughter, but I still get to witness her new milestones and events despite my busy work. It is thanks to Programmed that I'm able to have this balance – I couldn't be more grateful for it.
I also love the open plan and modern amenities of our office. Programmed has been kind enough to provide a standing desk!
What kind of opportunities have you been given at Programmed?
Quite a few! I have completed mental first aid training and am now a qualified mental health first aider (MHFA). I have also completed a first aid course, health and safety awareness, fire warden, and attended industry events and award nights. In my current role, I get to visit many different client sites from all sorts of industries that I would not normally have exposure to. I have also had to opportunity to travel regionally to train a new team, attend senior management meetings and will be attending a leadership course in the coming months.
I have learnt many of the skills to be successful in recruitment, human resources, time management, relationship management and business development!
Why do you love working in the recruitment industry?
We work closely with many people that are looking for work, just starting out or looking for a change. In these uncertain times, I take pride that we are helping so many people take their first steps into a new role and offering them meaningful work. Especially when some of the employees are lucky to join our clients in a permanent position – it means we've been successful in finding them the right job!
---
We're always on the hunt for great people to join our team. If you want to kick-start or continue your career in helping others achieve their career goals, then we'd love to hear from you.
To register your interest in a future with Programmed, visit our careers page.