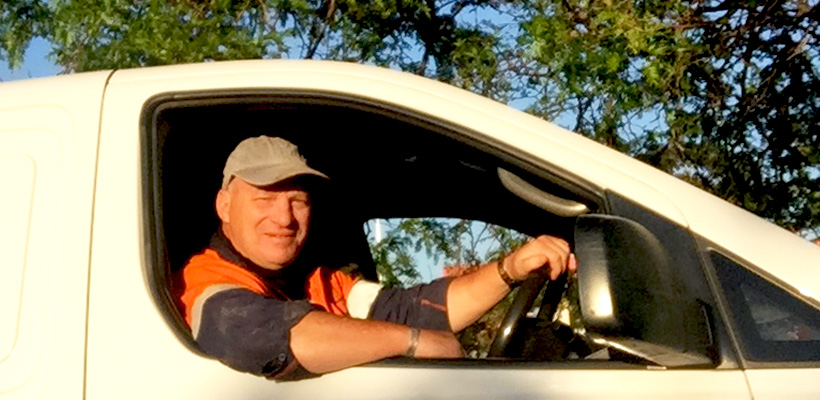 Ray Sieber is part of a team of key personnel at Programmed who deliver vital sewer maintenance services for Greater Western Water customers. He recently reached his 25 year milestone with us, so we took a trip down the waterways with him to celebrate.
Ray shared details of his impressive career journey with us and just how much the industry has changed over the past two decades.
What is your current role at Programmed?
My role at Programmed is sewerage maintenance – mainly blockages for Greater Western Water.
How long have you been working at Programmed?
I've been with Programmed for about 25 years now, and I initially started in the water division. I was trained as multi-skilled when I first came on board, so we did a bit of everything. We did both water and sewer, it was good, and I enjoyed it. The only thing I didn't like was having to change uniforms all the time. You couldn't wear your sewer uniform to a water job because of cross-contamination.
Tell us about your career journey over the past 25 years.
I worked in the water division for about eight years, where I did burst water main services, valves – those types of things. Then Programmed asked me to come over to sewer, and I've been in the sewer division for about eighteen years.
I started out doing blockages and have since done dig outs, maintenance holes, construction work on sewers, and a lot of camera work as well over the last couple of years. We mainly use the camera to check blockages are clear. It's helpful to have recorded footage as a reference if it happens again (it usually does).
I am also a qualified Drainer. Many years ago, I went to night school and got my drainage certificate. With experience, you learn where the pipes are. You get a picture in your head that helps you work things out a little easier.
Now I am mainly out in the van fixing blockages. You're outside, doing interesting work and interacting with customers. I get a lot of enjoyment from being out in the field.
What are some of the things you love about your job?
I love that every job is a challenge because each job is different. It's little things like
going to a house – I might not recognise the address, but I walk out in the backyard and think, 'I've been here before'. Then you start to remember things about the job. You also become a bit of a counsellor. Many customers are elderly and don't have anyone to talk to or go to for advice.
Another part of the job I enjoy is educating customers about their assets – what's theirs and what's Greater Western Waters. A lot of customers say to me, 'I didn't know that'.
I know everything about sewers. When you have a problem with your sewerage, you check your inspection point at the front or back of your house, and if it's full, you call Greater Western Water.
To me, it's worth spending those extra five minutes explaining what happened, how I fixed it and what to do when it happens again if it saves them time and money. They are the things I take out of it and that I enjoy.
What do you like about working at Programmed?
I am the union representative, and I spend a lot of time talking to the management team. It's the best management team, very understanding, and when we work together, it's always a team effort. They listen to the field team and do their best to accommodate our needs, making the job much easier.
These last couple of years have been the hardest I have ever worked because of the pandemic. With so many people stuck at home now, there are many more blockages, which means more work. Many of us are experiencing burnout, but the management team have been so supportive. It's a real testament to Programmed.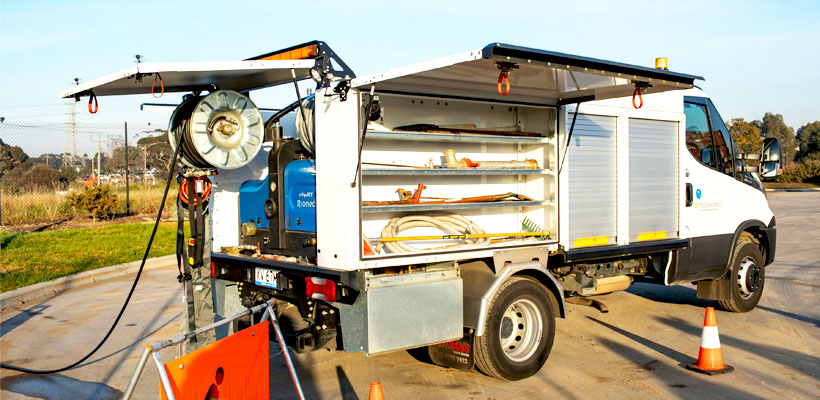 Has the industry changed much over the last 25 years?
It has changed a lot! I spend a lot more time on the computer. Paperwork like risk assessments, JSA's, equipment checks, and safety records have evolved over the years as well.
We used to do a lot of digging by hand, but you rarely do a hand dig these days. You have a machine called a Hydrovac that can suck all the dirt out like a giant vacuum cleaner. And a high-pressure water system that virtually cuts the blockages like butter without damaging any of the assets. Sometimes you use it, and it clears blockages you didn't even know were there!
You still need to know the basics and how the pipes are laid, though. You can't go out and just clear a blockage. You don't know where it is or if you need to go back towards the house or the street to find it. So, it helps if you understand how everything works.
Can you tell us a job highlight or two from the past 25 years?
My highlights have been customer satisfaction and engaging with customers.
Each job I do has my name against it, so I always try and do the best I can. The customers are always really nice – I think I have only had a couple of bad experiences over the past 25 years, which is pretty good!
What advice do you have for people considering a career in the water or sewer industry?
I think it's a very good industry to work in – I have been here for 25 years after all! I've always looked at my job as a career. My role will never be redundant. It's 24 hours a day, 7 days a week, 365 days a year. They will always need people doing sewer maintenance.
Over the past four years, we have had a couple of apprentices come through. We have a trainee course, and I don't mind teaching anyone willing to learn. You do get satisfaction from watching trainees take the time to learn and be patient. It all comes down to experience and just getting in there and doing it.
I always try to tell the younger people I work with that your name is on it when you do a job, so have pride in what you do.
There is a promising future at Programmed for people that want to learn and are willing to learn. It doesn't sound exciting, but there are always challenges, and like anything, the longer you do it, the easier it becomes. Plus, you get the satisfaction of fixing something and putting your name to it.
A final bit of advice from Ray. . . fill your bath with cold water before you go on holiday. Flush the toilets before you leave, then let the bathwater out. It will flush the whole system out, and you won't come back to any blocked drain disasters!