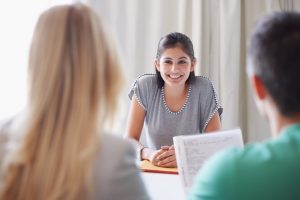 Prepare for an interview like a pro with these tips from recruitment consultants.
Preparing for questions in an interview doesn't have to mean managing sweaty palms and trembling hands. With a few simple tips and some practice, you'll find yourself cool, calm, collected and ready to win the job you want.
Interviews for a role or qualification are usually a good mix of behavioural and general questions. Having a clear structure when answering questions will demonstrate your ability to think in a clear and analytical manner.
The interview usually starts off with general questions. The most common, and dreaded by most, is "Tell me about yourself". Really, this question is asking you the following:
"What are your future aspirations?"
"What are your immediate objectives?"
"What are your strengths and weaknesses?"
"What are your hobbies and interests?"
"What do you do in your spare time?"
"In one word, how would your colleagues describe you?"
And you have to answer this in a few sentences. Make sure you choose the attributes, skills and interests that are relative to the role you are applying for. For example,  if you're applying for a communications role, your previous colleagues may describe you as innovative, with excellent written communication skills, you're interested in learning and educating/communicating with friends and family and you thrive working in a fast-paced environment.
You should also consider the following:
"What interests you in the position/company/industry?"
"What is your most significant achievement?"
"Where do you see yourself in five/ten years?"
HOT TIP: Always prepare an example question that relates to customer service, both positive and negative – Arron, Programmed Recruitment Consultant
Behavioural based questions, also known as STAR Interview Questions (Situation, Task, Action, Result), are designed to understand your past 'behaviors' in specific work situations as well as determining how you would react in a certain situation in the future.
Courtney, a Recruitment Consultant at Programmed Professionals, gives an example of a behavioural based question to be "tell me about a situation where you've had a tough customer and how did you handle this situation?"
"Tell me how you handle high-pressure environments"
"Tell me about a time when a group project you were working on failed…."
Closing the interview
It is now that time of the interview when the recruiter asks "do you have any questions for me?" This is your time to really impress them by demonstrating your interest in the role and the company.
For Courtney, company culture based questions are at the top of the list. "When a candidate asks and digs deeper on the role it shows that they're already trying to picture themselves in the job", she said.
For example, if you're applying for a marketing role, you may ask:
"What teams do the marketers work with/support?"
"Who would my stakeholders be?"
"What part will my job play in the organisation?"
Here are some examples of questions for you to ask your interview regarding the position and the organisation.
"What is the induction and training process?"
"What are the company's future growth plans?"
"How would you describe the culture of the company?"
"Why is this position available?"
"What's the next step?"
---
Programmed is a leading Staffing and Maintenance organisation, providing staffing, professional, technical, training and maintenance services across Australia and New Zealand with more than 20,000 employees supporting industry.
Are you ready for your next career opportunity? Browse jobs here