Imagine a person stepping out onto the road just as you happen to be distracted for a few seconds. The consequences are simply shocking.
Driving demands all of your attention and any other tasks that require you to share your concentration impacts your ability to drive safely.
Being distracted while driving reduces your reaction time which then affects your ability to anticipate and avoid hazards on the road.
The TAC lists distracted driving as one of the five major factors that cause road trauma across Australia.
People need to be conscious of their speed, driving within the limits and the conditions.  Don't be affected by alcohol.  Don't be affected by drugs.  Do not drive when you're fatigued.  Do not drive while not wearing a seatbelt.  And never, never use your mobile phone.
It has been estimated that distraction plays a role in 30-40% of all serious crashes and road crash deaths across Australia. Driver distraction was also a contributing factor in 36 fatal crashes in New Zealand in 2017.
This includes both distractions from outside a vehicle as well as inside, such as the use of mobile phones, pets or adjusting radios. Using mobile phones for examples, can cause drivers to take their eyes off the road, their hands off the steering wheel, and their minds off the surrounding situation.
Stay focussed during long trips
Driving with children on long trips can test your patience and your concentration. The best way to avoid being distracted by children in the back seat is to keep children occupied while driving. The TAC suggests a number of travel games which can be a great way to keep kids occupied and entertained while on long trips. It's also a great way to get them familiar with the driving environment, and even help ward off car sickness.
It's also important to take regular breaks to reduce fatigue when travelling long distances.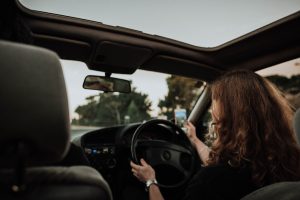 What example are you setting for our future drivers?
Research done by the University of the Sunshine Coast has shown that P-platers are the most at risk on the road, as reported by the Sunshine Coast Daily.
Dr Bridie Scott Parker, recognised for her road-safety research, found they adolescent drivers were still developing their situation awareness skills.
Her research compared young driver behaviour in Australia with other parts of the world.
"Mobile phones are a major distraction. When you hear it, it triggers a response in a young driver to check it. Then the brain moves away from the road and the eyes and hands can follow.
Dr Scott Parker encourages parents to set the example for our future drivers.
"Parents can be a role model from the moment they turn the car seat around. They can start talking about road safety and why they need to be careful.
RACQ's Young Driver Survey found almost 90 per cent of drivers under the age of 25 had seen their parents drive while tired and 72 per cent claimed to have seen their parents use their phone while behind the wheel.
Here's some simple things you can do to reduce distractions:
If possible, turn off your mobile phone completely when driving, or if you have an iPhone, use the 'Do not Disturb while driving' funtion
If you can't turn it off, always ensure you use a hands-free system if answering calls while driving
NEVER text or email while driving
Make sure your windscreen and mirrors are clean and unobstructed
Adjust any vehicle controls (including the radio/CD player) before setting off
Keep your radio volume to a minimum
Ensure pets are properly restrained in the vehicle
If you are unfamiliar with the route, check a map or program your GPS before heading off
Take a break rather than eat, drink, smoke or groom yourself while driving
Recognise what makes you distracted when driving and either avoid that activity when driving or find a safe place to pull over first.
Slow down, switch on and enjoy the ride.
---
Programmed is a leading Staffing and Maintenance organisation, providing staffing, professional, technical, training and maintenance services across Australia and New Zealand with more than 20,000 employees supporting industry.
Are you ready for your next career opportunity? Browse jobs here