With today's smaller backyards, many people now have stopped growing fruit trees and unfortunately miss out on the fresh delights of homegrown. If you are pushed for space or want to maximise the amount of fruit varieties you can grow in your yard why not consider espalier fruit trees. Espaliering is a technique that has been used for centuries, particularly in Europe, for training fruit trees to grow on a wall or trellis.
by Martin Crabb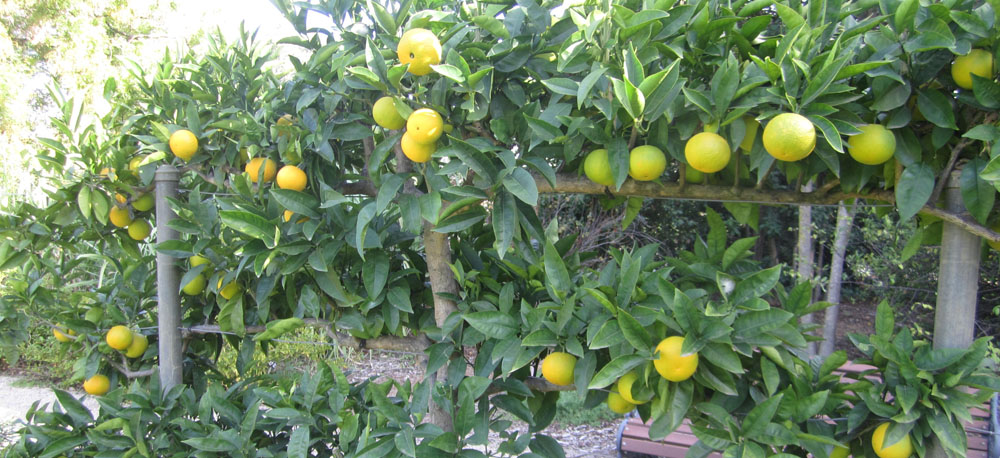 Apples, pears, apricots, olives, plums, citrus, nectarines, and pomegranate, are just some of the many fruit tree varieties that can be espaliered. It is important to select a location that will provide at least 6 hours of direct sunlight, otherwise you may find the tree doesn't set fruit. A key to success is to prepare the area by digging in organic compost and aged manure.
If you were to only grow one fruit tree, I would suggest a lemon as its fruit has a multitude of uses and can be included in your favorite recipes. Homemade lemon cordial is a winner in our home. The best variety is a thorn-less lisbon which produces an abundant crop over a long period. If you live in a warm district, eureka is a good choice.
My experience with nectarines purchased from fruit and veg shops is that they look good but are low on flavour. Goldmine is a white fleshed variety that produces small but extremely sweet fruit and could happily be espaliered on a shed wall or rear fence.
To save on space, you may consider planting another similar growing variety in the same hole. Planting in duo is also beneficial as some trees. These trees require a different variety to cross-pollinate, for example, red fuji and Jonathon apples or Japanese plums like santa rosa and Satsuma are excellent cross-pollinators.
Espalier trees are often trained to form a well balanced structure that can create a good focal point in your garden. They can also be less formal in their presentation, as long as the tree is trained to grow flat by encouraging lateral growth.
If you choose to espalier a stone fruit visit nurseries in winter when they have a wide selection. A range of fruit trees are now also available on dwarf growing root stock, which encourage a more compact size tree, but still produces a good crop.
For more information visit the Flemings Nurseries website.
Lemon Cordial
1.5Kg caster suger
Zest and Juice of 7 lemons
1 Litre boiling water
¼ cup (60g) citric acid
Makes 2 Litres
Combine all ingredients in a large bowl. Stir well until sugar has dissolved. Stand covered for 3 hours or overnight. Strain into sterilised bottles to store. Keep in a cool place. Serve as per 'normal' cordial with water or sparking mineral water.