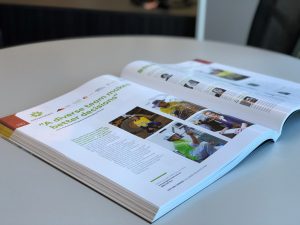 To further our advocacy for gender equality and diversity and boost our reputation as an employer of choice, we have partnered with Explore Careers. As Explore Careers is Australia's leading facilitator of careers and employment programs between schools and prospective employers this partnership will help us form important relationships with secondary schools across Australia.
Explore Career's strength lies in connecting school career advisors and students between Years 9 to 12 with organisations, and helping students make informed decisions about their future.
The partnership will provide great exposure for Programmed as we continue to foster a strong awareness of who we are, what we do and our purpose as an organisation, so that the younger generation will strongly consider Programmed as a preferred employer.
We will have the opportunity to profile and promote ourselves and our diversity mission in Explore Careers' 2017/18 edition of The Career Advisors Guide.  When Term 1 commenced this year every secondary school student in Australia should have received a copy of this expansive career guide, with access to a full online version, where they can read all about us when investigating career options across industries and occupations.
Programmed is also featured in the guide's Women's section, which highlights companies with a strong focus and interest in attracting females to their ranks. In this section we encourage young readers to explore in greater depth any career interest they have, regardless of it being in traditionally male-dominated industries or professions.
We highlight in the section how committed we are to diversity and our true celebration of gender equality; showcasing ten female employees in roles ranging from leadership in finance and operations to those in marketing and HR. A particular focus was placed on female apprentices in trades to exemplify our initiatives on cultivating careers for women in this area.
We look forward to talking with school career advisors, parents and students at the upcoming 2018 Explore Careers Fair to be held in May and to sparking more interest with the next generation through this partnership.
[maxbutton id="7″ ]