Water seepage is one of the most costly and common causes of damage to property. If left untreated, it can cause damage to the surface of your property, and eventually compromise the structural integrity of your building. Let's take a closer look into some of the issues that arise from water seepage and how to combat it.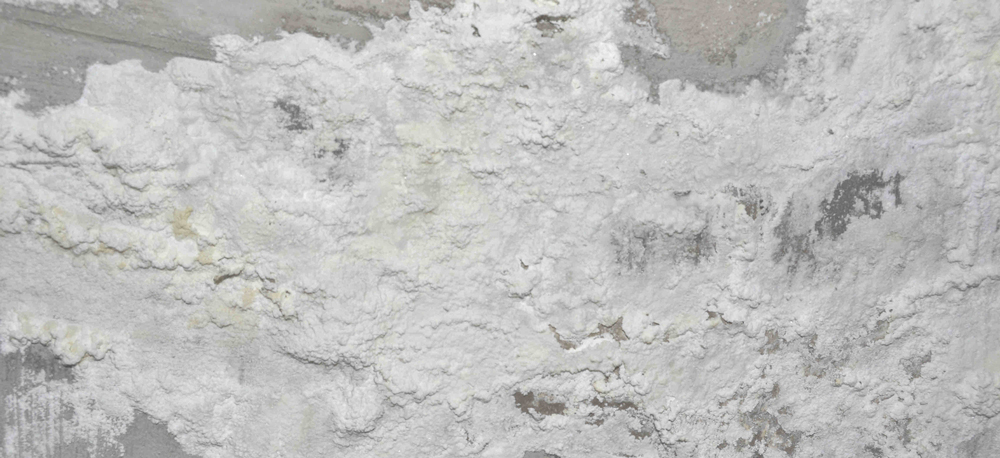 Do you have something similar on your walls?
This is known as mottling, or efflorescence, and is caused by excess water escaping through the exterior masonry walls from inside the masonry. Not only does it damage interiors, it also encourages mould growth. While mottling has a varied appearance, its colour is almost always white, yellow or brown. It may come with either sharp or faded edges.
Although it is a harmless substance, efflorescence isn't the most pleasant sight and can have a negative impact on your property's value. In a world where appearance matters, you need to ensure the presentation of your property is of the highest standard. Simply put, people will pay more to live or work in a building that looks good The last thing you want is for mottling to fuel suspicions that your property is poorly maintained or unsound – and by association, your organisation.
Countering Efflorescence
In order to repair the affected area, existing mottling needs to be fully removed from the surface prior to painting. This can be achieved through using a pressure washer and wire brush on the surface, followed by a calcium chloride solution for a final rinse off. Surfaces should be left for approximately two weeks to ensure the mottling is gone.
Most importantly, you'll want to eliminate causes of moisture at its source to avoid a recurrence. Here are a few things you should consider:
Sealing cracks in the masonry with high quality latex caulk
Cleaning blocked downpipes and gutters
Repairing roofs
Installing more effective ventilation systems or fans, especially in high water usage areas such as bathrooms and kitchens
Once the source of moisture is completely removed you are safe to repaint. Protect your property with elastomeric wall paint to increase tolerance to future outbreaks.
If you suspect that your property has efflorescence and mottling, speak to a Programmed Property Services professional as soon as possible to get your building checked.
[maxbutton id="1″ ]