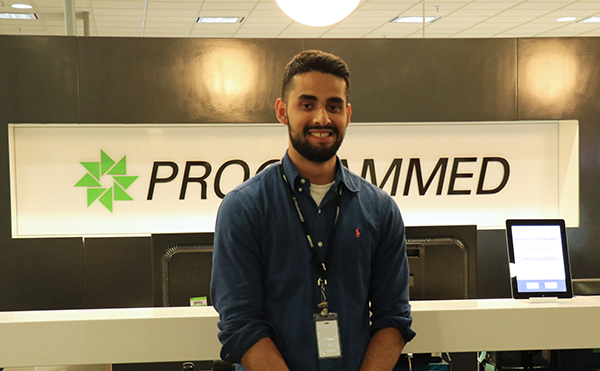 In just over a year, graduate engineer Ahmad Siddiqui has experienced diverse facets of working in facility management. From helping to develop financial models for multi-million dollar commercial bids to working at a customer correctional facility site, he has embraced the challenges and opportunities of graduate life.
The Programmed Facility Management Graduate Engineer program is an opportunity for recent graduates to gain experience in a variety of areas by completing four six month rotations.
Ahmad started with the Sales and Marketing team where he learned about financial models and pricing complex Facility Management contracts. "I'll never forget the first tender I worked on, trying to sort through the client requirements, the stress and excitement as the due date was rapidly approaching, and the sigh of relief once the tender was finally submitted," recalled Ahmad.
After completing a rotation with one of the correctional facility contracts, Ahmad moved back to the Melbourne office and joined the Asset Management team.
The team was excited to have Ahmad join, as they had heard he was eager to learn. They were not disappointed, "We responded to his eagerness to learn by taking the time go into detail and share our knowledge of facilities and assets", explained Luke Vaughan, GM of Asset Management at Programmed Facility Management.
Creating a Balanced Scorecard
With the support of the Asset Management team, Ahmad attended a one-day intensive training session on Power BI with the high-level objective of developing a Balanced Scorecard for PFM to provide a detailed contract performance snapshot for each customer.
Ahmad approached the project by taking ownership – arranging meetings with the Strategic Asset Management (SAM) team and developing a reverse brief to be signed off.
With the team's approval, Ahmad communicated with support leads to acquiring the data necessary to develop a Balanced Score Card.
This stood out for Luke and his team as somewhat of a milestone project for the business.
"It was not long before we had visual representations of previously disparate data. This enables the business to identify correlations of important metrics such as customer satisfaction and financial performance, so we can focus on immediate opportunities for improvement," explained Luke Vaughan.
"I believe Asset Management is one of the core components of the Programmed service offering as it allows us to provide depth to what we do beyond 'fixing things'. We pride ourselves on providing a 'whole of lifecycle performance based approach' to managing assets. This means that at each stage of an asset's lifecycle, the ways to add value are identified and consideration for other aspects of the asset's lifecycle is acknowledged."

Ahmad Siddiqui
Real-life learning
Ahmad was able to take a project and shape it into a way that could directly improve contract performance.
"What I enjoyed about developing this report was learning the new Power BI software and then applying the learnings from my commerce degree to evaluate performance."
"The Strategic Asset Management team's primary role within the business is to provide training and awareness of the PFM Asset Management System framework. We now have a champion in Ahmad sharing his knowledge at every opportunity to other asset practitioners in the business," said Luke Vaughan.
Recently, Ahmad also received the Asset Management Council – Certified Associate in Asset Management (CAMM) certification.
By utilising his experience and knowledge of asset management, Ahmad became a valuable member of the team and continues to develop his skills each day in the team.