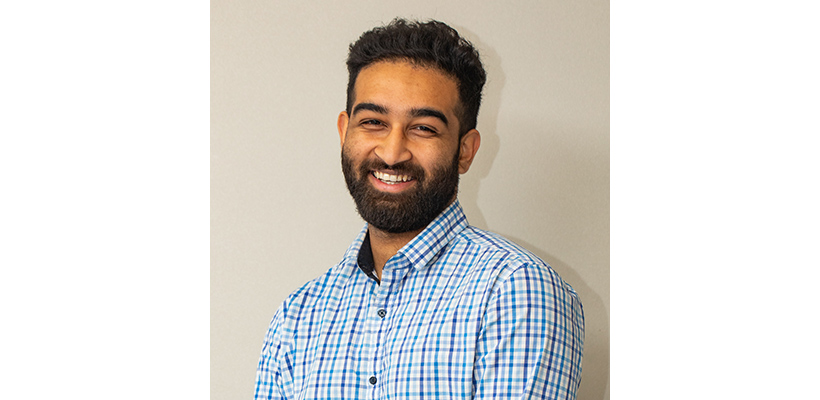 Programmed's Water Academy, a training platform for emerging Water Industry professionals providing career pathways and formal qualifications for new and existing employees, has had another graduate come through. Graduate Bharath Kartha joined the Water Academy and Programmed after completing his Engineering and Commercial degrees.
We caught up with Bharath to hear how he was enjoying working in the Water Industry.
You have studied both Engineering and Commercial aspects of business; how are you using both?
I've always loved Engineering and found it very appealing, but I'm glad I studied Commercial too, as it's helping with the more corporate side of my career. I'm able to navigate both the construction, project management and more Engineering side of what I do and put it into perspective with the business administration, accounting and estimation that comes along with working on such large projects.

Where are you currently stationed?
Well, with COVID about, mostly from home. But we are also essential workers, so I'm lucky to still get out to the sites when needed. I'm currently working at our customer, Greater Western Water, as part of the maintenance team. I'm assist in managing projects around the plant to help maintain the services at the Greater Western Water plant. The team takes great pride in providing the maintenance so employees can safely and confidently continue their work, which is vital for the community.
What does a typical day look like for you?
Each day is unique. It can go from more desk-based tasks, like working on required permits to do projects, to very technical work, to literally getting my feet wet out in the field and getting down to the grassroots (pun intended) of the problem.
You have indeed worked on some exciting challenges.
Yes, definitely. I found working with the Lime Screw to control the PH balance at the plant fascinating. I find that technical part very engaging.
The extensive knowledge that team members and partners have shared with me has been invaluable. My experience across the projects and teams has been very entertaining in knowledge and characters.
A job like that would involve a few stakeholders.
Yes, and contractors too. That's another benefit of my work. I get to interact with many partnering contractors. We are all in this together, and each brings expertise to the solution.
Through the Water Academy, you have been on a rotation to experience different departments within the contract. What all have you covered?
I've benefited tremendously from the exposure across all departments here. I've worked with the Electrical team, the Sewerage Team and now the Water Treatment Team. Through all these rotations, I've built up partnerships with our contractor network and gained many insights from just watching and listening to our experienced teams.
Are you enjoying Programmed?
Most definitely, everyone here is so happy to share their knowledge. All sorts of tips and tricks picked up over the years. And that's not limited to our team, our partners too. Everyone wants you to succeed, and I can feel the support.
It's always great to hear that our Water Academy graduates are enjoying their rotations and gaining that on-the-job experience and industry insight from experienced veterans of the Water Industry. We look forward to watching you ride that wave of success, Bharath.