The entrance to your school is your first opportunity to "wow" staff, students, parents and visitors. It introduces your school's brand, values and educational offerings, so make sure your entrance signs make a statement about your school's image and reputation.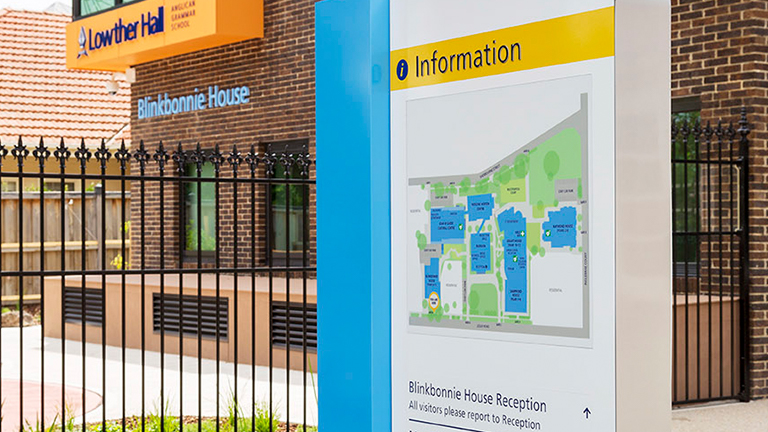 School entrance signage is one of the most important signs a school can have. Poorly thought-out entrance signage can be damaging to your school brand but when done well, it can make a memorable first impression and even prompt enrolment enquiries. Entrance signs can be further enhanced with LED panels to effectively communicate to the community and visitors of school events, announcements and more.
Planning your next entrance sign? Ensure you make an entrance with your school signage with these five tips.
1. Get A Signage Designer
A common mistake is selecting someone who doesn't specialise in signage design to create your school signage.
Sometimes, a signage manufacturer may be engaged to design the sign. While they are knowledgeable about manufacturing, they may not be so good at designing signs. Some designs can end up being too busy or including elements outside of the school's brand.
A signage designer can help communicate your school brand effectively, using texture, colour and typography within your school's brand guidelines to create an entry statement that sets your school apart.
2. Light it up with LED
Whether you have a sporting event, concert, fundraiser or just want to showcase school and student achievements, effective communication is a must for schools to keep their community informed.
Many schools are incorporating electronic signage such as LED displays to their entrance signs to promote and inform students, staff and the public of school activities.
LED signs are not only energy efficient and longer lasting than other illuminated signs. Messaging can be easily changed (either with content software or in the sign itself) for relevant and timely communication of information.
3. Consider and work with your surroundings
Take into consideration the surroundings to strategically design your entrance sign.
Pylon signs are generally a good choice because of their height and visibility but in some situations, a smaller sign might be more appropriate than a larger sign. As night falls, this can transform the look and feel of your sign. You may need further illumination so that your signage presents a consistent brand and image for day or night.
There may also be other locations instead of the school entrance that are more effective at drawing attention. For instance, if your school is set against major road and highways, you can purposefully install signage where it can be seen daily by thousands of motorists. It's a great way to get noticed and improve your brand recognition.
4. Don't forget to protect your signage from vandalism
Vandalism costs schools money that could be better spent on education and school activities. If your school is in an area where your new entrance sign could become a victim of graffiti and vandalism, take this into consideration when designing your signage.
Some ideas you could incorporate to minimise damage to your sign:
Place important information in out of reach areas
Use replaceable lower panels for the accessible parts of your sign – this can be easily repaired and changed
Graffiti removal can be quite abrasive so consider specialist protective coatings to reduce damage and enhance the longevity of your signage
5. Talk to a signage expert
Signage projects require a holistic approach and considerable investment. With your school reputation at stake, you'd want to get it right the first time.
A professional signage company can advise what would work best for your school and budget and help bring your vision or brand to life. They'll consider the environment and placement for the sign, the audience and high traffic areas, as well as the needs and goals that your school wishes to achieve to maximise your investment and brand perception.
Ready to make a statement with your school entrance? Talk through the best options for your school with one of our signage specialists today.