Jeffrey Dhu's life has not been easy, but what he has overcome through his drive to change is a true testament to his growth, passion and resilience.
In recent years Jeffrey overcame a history of drugs and incarceration to complete our Indigenous Pre-Pathway Traineeship as a mature-age student, achieving a Certificate II in Engineering this year.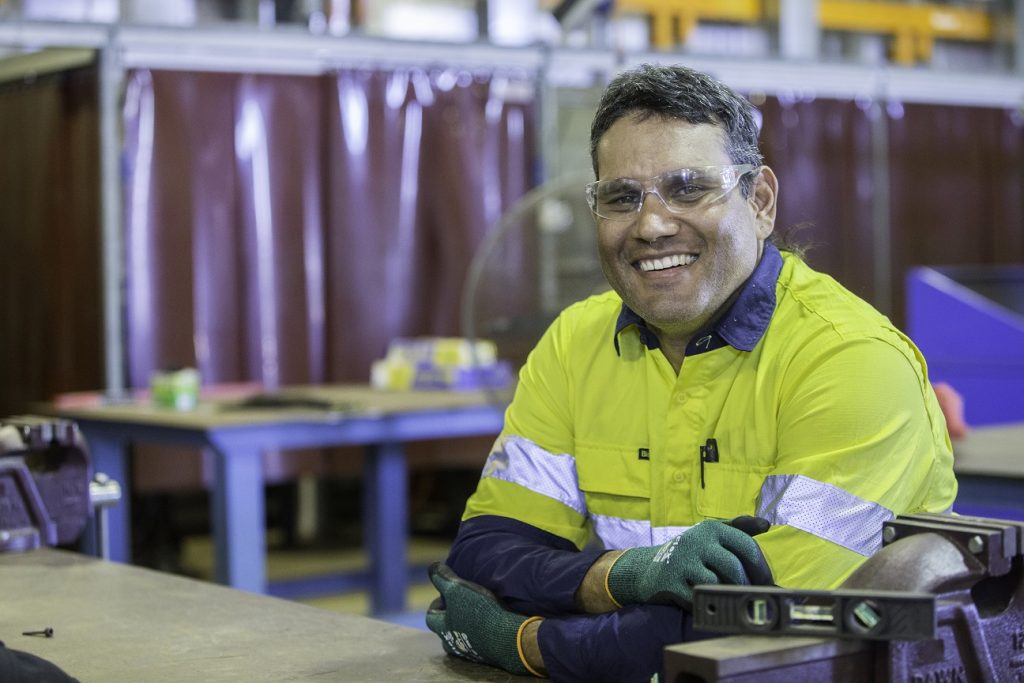 Jeffrey grew up in Port Hedland WA. He left school at 14 to start sampling iron ore and it was also at this time that he found alcohol and drugs.
The next 20 years would be a cycle of job losses across various trades. If Jeffrey thought he was going to be let go, he would quit and look for something else. He had a short-lived stint as a promising player for his local football club, but 'lost the love of the game and was consumed by drugs and alcohol'.
In 2011, there was some short-lived happy times after the birth of his daughter. However, Jeffrey didn't want his choice of lifestyle to affect her and moved back home where his substance abuse escalated, leading to a couple of stints in jail as a result of drug-fuelled violence.
While incarcerated in 2017, Jeffrey used the time for self-reflection and realised he had to change his life. He replaced his drug habit with healthy eating and going to the gym.
'Once locked up, I had this time to clear my mind, I wanted something better for myself, my partner and my family (daughter and three step kids). A lot of real honest reflection about behaviour, good hard look at myself and the person I'd become.'
As Jeffrey completed his time in jail, he knew he wanted to find something positive to focus on. When his sister (who was currently completing our Cert II Engineering traineeship) mentioned Programmed's Pre-pathway Traineeships, he knew this would be a great opportunity for him.
Jeffrey applied, went through our recruitment process and was accepted into our Pre-Pathway Traineeship program with one of our oil and gas customers.
During his traineeship, he has grown as a person and has been a standout performer. He found the routine, positive culture and structure of the traineeship to be something he wanted to wake up for each day, which meant that he took very little time off.
Throughout his traineeship, Jeffrey quickly took on the role as a mentor to the other young Indigenous trainees, sharing his experiences to help them stay committed to their training and careers.
'I love taking on responsibility head on now, rather than trying to avoid it. Previously I just didn't want to grow up. During my traineeship, I was cleaning poles with vinegar to get the rust off the steel and a site manager asked what I was doing. I said sometimes it's what you have to do, not what you want to do. Not something I could see myself saying years ago'
Training Coordinator Karthi Zis worked closely with Jeffrey throughout his traineeship, helping him stay on track through weekly check-ins both at home and work, as well as coaching, mentoring and supporting him all the way through his traineeship, she also helped him apply for roles and update his resume.
Jeffrey is very thankful for the support he received. 'Programmed have given me a second chance, given me a go, a last opportunity. Programmed's decision to give me a second chance helped me change my life forever and I will never forget that. This was basically my last bridge, if I burnt this I wasn't going anywhere.'
At the end of his traineeship Jeffrey was offered apprenticeships with three different host companies, based on his fantastic work ethic, glowing feedback from his supervisors and his mentorship of other young Indigenous trainees. He accepted a role, starting in April this year and couldn't be happier.
Jeffrey is incredibly motivated to set himself and his family up for the future. He flies his daughter up to see him every school holidays and is supporting his partner.
In reflecting on his journey, Jeffrey said that his biggest challenge was breaking the cycle, which he said, 'was easy once I had made up my mind up about where I wanted to be'. His advice to others looking to make a change in their lives, was to just do it!
'Give it a crack and go for it. You've got to put everything into it, to give yourself the best chance, you can't half do it, you must be fully committed.'
'I'm driven to be the best for my partner, daughter, step kids, to be the best son and best person to everyone. (It's a) natural high, the best thing ever, still riding it every day!'
---
 Are you looking to create a career pathway through a traineeship or apprenticeship? Browse opportunities here.