When COVID-19 stopped our QLD Indigenous Pre-Pathway trainees from heading to site to complete their six-week induction program, our Training Services team developed a series of on-site training and projects to complete that would see our trainees gain additional technical skills to not only assist their ongoing studies but also work strongly together as a team.
Our Indigenous Pre-Pathway program, currently run in Karratha, Darwin and Gladstone, is designed to give applicants exposure to the oil and gas industry to prepare them for a higher-level apprenticeship or traineeship leading to a long-term career opportunity.
Our five trainees had just started their six-week induction program when COVID-19 hit and they weren't allowed on-site at the three LNG facilities on Gladstone's Curtis Island (ConocoPhillips APLNG, Shell QGC's QCLNG and Santos GLNG) to complete modules of their studies.
So, to keep their training on track and keep motivation up, our Training Services team developed a series of projects for the trainees to complete as a team.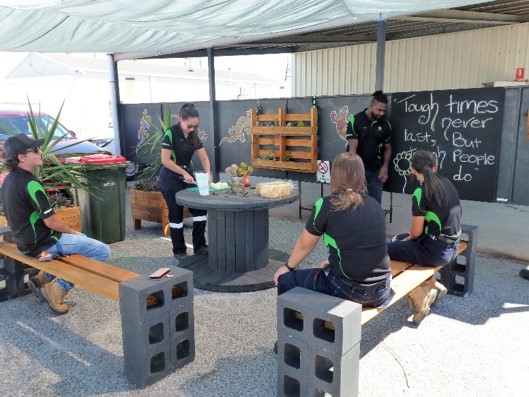 Project one was to create an outdoor garden/break out area at our training facility in Gladstone, that all trainees could use as a lunchtime/social retreat area. They were given a budget of $1000 and their brief was to use as many recycled materials as possible. As part of this project, trainees completed training for Workplace Health and Safety procedures and using Hand and Power tools via online learning and practical lessons were facilitated on-site by local Central Queensland University (CQU) trainers at our facility.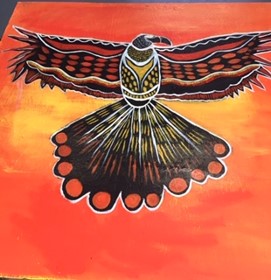 Project two was to add some decoration to the new break out area, with each trainee invited to paint a wall panel that could be hung around the space.
Lastly, project three was to rebuild old trikes from Santos's site GLNG on Curtis Island. Workers on-site use the trikes to get around the island quickly and easily. Our trainees had to disassemble, de-rust, sandblast, prime, spray paint and reassemble each bike. This project gave our trainees the opportunity to put their planning and maintenance skills to good use. The trikes have now been completed and are being transported back to site.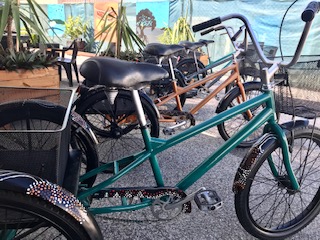 Their initial six-week induction turned into over 15-weeks and has equipped them with additional skills that they might not have learned as part of their training.
Tiana Watkins and Shaeli Carty, our Pre-Pathway Maintenance trainees, reported that they both enjoyed that the projects were activities they always had an interest in, but never had the chance to do, and that they had a greater appreciation of the importance of safety.
'Completing these projects has definitely given me more knowledge for when I go over to site. One of the biggest lessons learnt from these projects was the importance of safety and how much of an impact it has if you don't take it seriously or if you choose to ignore it. I was assigned a safety role for the first project we completed and prior to this position I lacked more knowledge than I thought, however through much research, toolbox talks, preparing safety documents, safety videos and presentations, my knowledge of safety and the Oil and Gas industry has expanded, allowing me to go over to site with more insight and background,' Tiana said.
Shaeli added, 'It has allowed me to have a new perspective on safety in the oil and gas industry, especially since I personally have never been exposed to it before. Researching incidents and completing toolbox talks relevant to the industry has made me aware of how important it is to put the safety of yourself and others first.'
Our trainees are now into their second week on-site on Curtis Island and are thriving in their new roles as Maintenance Trainees.
---
If you're looking for people and would like to partner with a company who supports its teams to think creatively to best meet your needs, contact us.
Or, are you looking to create a career pathway through a traineeship or apprenticeship? Browse opportunities here.