Programmed Skilled Workforce (PSW) has won 'Youth Employer of the Year' at the atWork Australia 2019 Employer Awards in Perth.
atWork Australia is a leading employment services provider working with Australians across the nation. Their annual awards acknowledge and give thanks to the valued employers with whom they partner; together making a difference to the lives of thousands of Australians through the power of work.
Over the past six months, Alena Barber, Kori Pisani and the Welshpool team have been focusing on providing opportunities to diverse job seekers, giving them a chance at successful and long-term employment.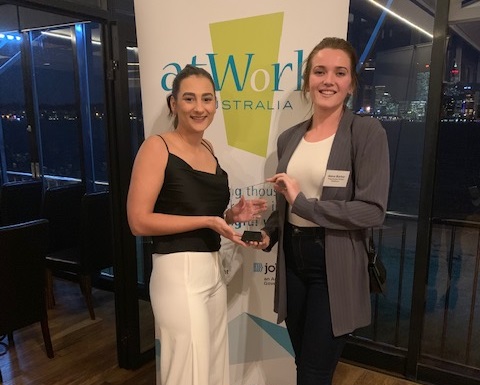 They have hosted a number of job fairs in the branch, worked closely with jobactive providers and kept track of the placements to ensure the job seekers are getting the extra candidate care they require to succeed.
Our Welshpool team have built a really strong relationship with atWork which has generated extremely successful results for both companies. Records suggest they have placed around 40 job seekers in work for 2019, all of whom are currently working regular hours.
On awards night, our team won Youth Employer of the Year and were nominated for Champion of the Year.
What atWork had to say about us:
YOUTH Employer of the Year: 'Programmed has implemented a unique style of recruitment for youth which involves group information sessions and activities, question and answer sessions and assessments. Upon successful completion of these recruitment activities, young candidates are invited to 1:1 interviews where, if successful, are matched to existing vacancies.'
CHAMPION Employer of the Year: 'Programmed has a loyal commitment to jobactive, and a continued support of our industry. Their open mindedness to embrace our candidates' strengths has led to long-term sustainable employment for over 40 Australians just in the last year.'
Well done everyone!