Despite modern methods of signage production, traditional hand signwriting continues to provide brands with a novel solution to their signage needs. Programmed's recent signwriting restoration of the Campbell's Soup Can in Victoria was an award winning painting project which proves that in some cases, traditional signwriting still trumps a modernised technique.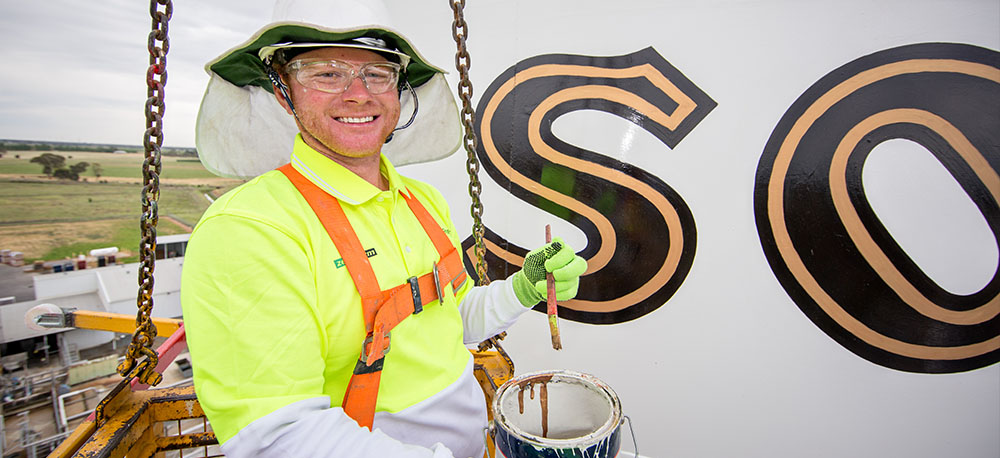 watch full Paper Towns 2015 film
Nine reasons why signwriting is not dead:
Traditional signwriting provides longevity and extended lifespan of a sign able to last up to three or four times that of a manufactured sign.
Simple maintenance and elegant aging makes signwriting a very effective long-term advertising investment.
Signwriting is ideal for surfaces that are curved, prevent adhesive from sticking or even roller shutters.
In industries with strict hygiene guidelines, signwriting provides low-maintenance, dust and vermin-free solutions, able to meet compliance and industry requirements.
Signwriting gives opportunity to best reflect the brand's history and authenticity with various sorts of techniques, such as gold leafing or painting on windows that modern methods cannot attain.
To replicate a large, intricate logo, signwriting can work out to be less expensive and give customers a stronger first impression than a vinyl alternative.
Painstaking care by extremely skilled artists who have years of training, experience and a steady hand produce dynamic imagery able to evoke emotions and engagement uniquely different from other modern signage methods.
The signwriting industry and its practitioners continuously seek out, and have made, improvements to materials and techniques to ensure a high calibre outcome comparable to manufactured signage is achieved and maintained.
When traditional and modern methods are used together, signage gives a striking result to maximise impact.
Particularly on large surfaces and walls, a well-crafted handwritten sign is riveting. This gives you the brand retention and awareness you seek. For more interesting facts on signwriting and its resurgence in popularity, visit our blog on traditional signwriting and its benefits to contemporary society here or find out how we achieved an award winning result for Campbell's Soup here. If you're interested in a sign able to capture and captivate customers for your business, contact Programmed now.