How to find and keep your dream job using social media.
In our digitally-connected world, the opportunities for social media job hunters to find and land that dream role are greater than ever before. Our mobile phones now give us immediate access to available roles and detailed information about the recruiting organisations with a few quick thumb scrolls.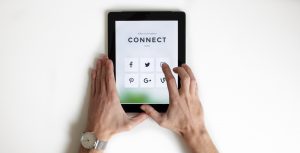 But with so much information now available at our fingertips, how do we ensure we're seen as the best candidate for the role we want?
Here are 4 tips for successful social media job hunting
1. Build and maintain a professional profile on LinkedIn
Gone are the days of listing out all your roles, accountabilities and achievements from your first part-time or casual job as a teenager until now. Great, effective LinkedIn profiles are straight to the point, show personality and highlight your greatest skills and capabilities. Your profile image should be a professional looking photo (and not your favourite 'lazy Sunday' selfie).
Ensure your profile has the appropriate privacy settings in place and that a recruiter can find you easily based on keywords relevant to your skills and experience in your job titles and profile description. LinkedIn offers great advice on making the most from your profile.
2. Follow those organisations you want to work with
Don't wait for the perfect role to be presented to you. List out the organisations that you like, have shared values, are working and developing products, projects and services that are interesting to you both professionally and personally, then follow and engage with them across their social channels.
Follow brands on Twitter for real-time news updates, LinkedIn for business editorial and Facebook and Instagram to get a sense of their culture and brand personality.
The more you know and understand the organisations you want to work in, the more success you'll have when the opportunity comes knocking.
3. Set up alerts on digital job boards
Every good online source for jobs will have an option for you to register for an account and set up automated alerts that will ensure you never miss the chance to apply for the job you've always wanted. Job alerts deliver available roles which match your keywords and selected location and send them straight to your inbox to save you time searching.
Register easily online for Programmed professional, technical, full-time, part-time or casual roles that match your interests and experience for jobs you would love to do, not only those you know you can do. Many new roles are published every day.
4. Keep it clean
Just as you use social media to research and engage with businesses and brands you like (and sometimes don't like), so too do hiring managers use social media sites like Facebook and Instagram to research and find potential candidates and future employees that fit the culture as well as the job.
This means what you say and how you say it on your personal social media profiles matters. Avoid profanities and references to illicit drugs or alcohol, and make sure your spelling and grammar are up to scratch. Don't let your first online impression be your last.
---
Programmed is a leading Staffing and Maintenance organisation, providing staffing, professional, technical, training and maintenance services across Australia and New Zealand with more than 20,000 employees supporting industry.