Key Points
Working in with Housing ACT and identifying opportunities for tenants and the community, Programmed has been able to generate substantial and lasting change
We collaborate with Housing ACT, our delivery teams, subcontractors, community service providers and other stakeholders to generate positive outcomes for a range of cohorts
Key programs include Social enterprises, a Youth Interchange Program, Community Trade and Safety Workshops, Work Experience, and opportunities for women in trades.
Challenge
Programmed has been working in the ACT since 1956 and currently delivers asset and facility management services to numerous customers. One of our major customers is Housing and Community Services ACT for whom we provide Total Facility Maintenance Services to11,850 dwellings under a contract until 2028. Housing ACT sought support to create sustainable training and employment opportunities for Aboriginal people, women, people with a disability, and other underprivileged cohorts who are over-represented among their tenant population.
Solution
Our local Social Inclusion Manager, Gregory Lackey, leads our community engagement programs with significant success in connecting to the community and in creating meaningful employment pathways for disadvantaged Canberrans. Working in with Housing ACT and identifying opportunities for tenants and the community, we have been able to generate substantial and lasting change through a defined program of events and engagement, updated annually in conjunction with Housing ACT.
Gregory has been actively involved in engaging with over 100 local Aboriginal and Torres Strait Islander organisations and local companies. Our relationships built with key ACT organisations like Ginninderry, Gugan Gulwan Youth Aboriginal Corporation, Ozchild, Canberra Institute of Technology, and ACT Fire & Rescue have been integral to our social outreach.
Gregory collaborates with Housing ACT, our delivery teams, subcontractors, community service providers and other stakeholders to generate positive outcomes for a range of cohorts. These include long-term unemployed, Housing ACT tenants, young people, Culturally and Linguistic Diverse (CALD) refugees, disabled people, and Aboriginal and Torres Strait Islander people.
Gregory brings a passion for his community along with recognition for equality through social inclusion initiatives, including a range of opportunities for First Nations people. Key strategies have included facilitation of a Cohort Steering Committee, along with an Employer Panel that identifies jobs for under-privileged people.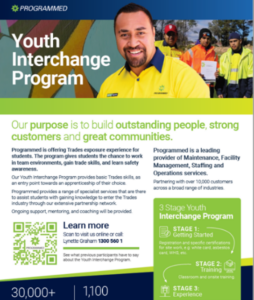 Outcomes
Key programs that have benefitted people in the ACT include:
Social enterprises – Programmed launched Kippax Uniting Mower Shed and Canberra PCYC Southside Mower Shed to provide employment opportunities in garden maintenance and rubbish removal
Youth Interchange Program – In association with ACT Department of Education, Employment Plus, and Gugan Gulwan, this Program offers trades training and exposure for students
Community Trade and Safety Workshops – Run in conjunction with ACT Emergency Services Agency and Programmed Essential Services, providing hands on safety tips, fire prevention and affordable maintenance tips
Work Experience and Australian School-based Apprenticeships – Programmed is working with individual schools (including Belconnen High School and Hawker College) to provide Work Experience and Australian School-based Apprenticeships (ASBAs) to school students
Try-a-Trade – This day was launched in 2022 in partnership with the ACT Education Directorate. Students in Flexible Education interested in gaining skills and knowledge about the Building & Construction industry are invited to participate. The Try-A-Trade VLO will support students in navigating a pathway into Trades
Understanding Building and Construction Pilot Program – This Program is a partnership between Programmed, SPARK Ginninderry, ACT Office for Women, and National Association of Women in Construction (ACT). It is aimed towards young women seeking to enhance opportunities and remove barriers from choosing a career pathway in the construction industry
Construction Boot Camp – in association with Canberra Institute of Technology, Programmed's Subcontractors offer work experience to students in their area of interest to give students a better understanding of the trades.
Services we delivered
Asset Management
Facility Management
Programmed Staffing Services
---
Start your next project
Get in touch