How we live, work and interact with each other has changed, and nowhere is this change more apparent than in the office.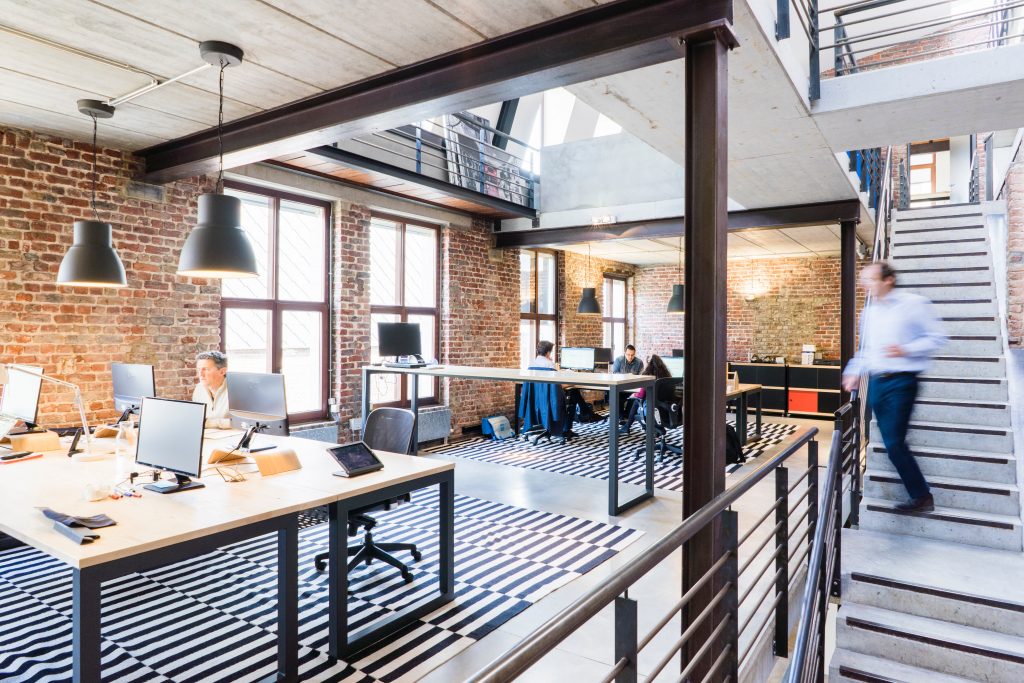 Increased focus on health and wellness
Many accept that things will not return to the way they were for a long time. This means offices will have to increasingly factor in staff required to social distance and a cohort of people with frayed mental health after nearly two years of disrupted lives.
Rearranging seating layouts to incorporate additional spaces between desks, wider aisles, more frequent cleaning, and potential dividers between workstations will be paramount.
Higher calibre air filtration systems that limit the amount of shared air are also increasingly sought after.
Hot desks are also likely to become more of a trend, as businesses invest less in individual desk set-ups for staff members who may only use them a few days a week. Although hot desks may seem antithetical to containing the spread of the virus due to the sharing of facilities, they avoid the build-up of clutter. With staff members taking their possessions home every night, building cleaners have a simpler job of thoroughly sanitising all workstations overnight.
'Resimercial design' is the practice of blending the comforts of residential design with the high functionality of a commercial office. Breakout zones, quiet spaces and outdoor areas where workers can recoup between times of high stress will start being prioritised in office designs. Comfortable seating like couches, lounge chairs, beanbags and plush throws – as long as they're easily sanitised – may also start to be more of a feature as offices look to bring the comforting aspects of home working into the commercial space.
Decentralisation
While many businesses had the one central office operating out of the CBD pre- pandemic, decentralised workforces will be key to getting staff members back into the office. Many businesses have already implemented hybrid working arrangement with time split between the office and home, with fewer requirements to be on-site and more digital connectivity so staff can work from anywhere. Others will spread their offices across different suburbs in what is called the 'hub and spoke' model to provide commuting benefits to staff who can either drive, cycle or go against peak hour traffic to reach these offices.
This will bring mental health benefits to staff who will no longer have to contend with stressful peak-time commutes and will ease the pressure on our public transport system and road networks.
Automation
The fewer surfaces we touch, the better chance we have at containing the spread of the virus, which is where automation comes in. If certain workplace elements could be swapped for touchless automated counterparts – motion sensor lighting instead of light switches, automatic doors that require keycard access instead of door handles, and automatic soap dispensers in bathrooms – the spread of the virus could be mitigated.
Virtual meeting tools and servers

With a likely mix of some staff dialling in from home and others working in the office, there will be more demand for video conferencing solutions, webcams and headsets. Offices will need spaces with strong internet connection where employees can go to conduct these calls – big enough for small teams to gather in and present if need be. Technology has been instrumental for business survival over the past eighteen months; ironically, it may be that the very technology that kept us operational remotely will bring people back to the office.
Function over aesthetics
Office designers are increasingly prioritising fabrics, fixtures and furnishings that are less likely to host viruses and bacteria on their surfaces and easily cleaned. Viruses are said to survive for up to three days on plastic or stainless-steel surfaces, yet die within four hours on copper, brass or bronze. Hard flooring will be encouraged over carpeting and limited furniture for ease of cleaning will be prioritised. Beauty, form and design may take a backseat to function, comfort and safety.
Outdoor spaces
To provide a reprieve to staff members who may be anxious about being together in an indoor shared space and to tap into the many well-documented benefits green spaces have on wellbeing, outdoor spaces will be well worth investing in. If businesses don't have access to an outdoor area, they can consider adding more plants throughout the office.
The office as we have known it has forever changed from this point. The future office may come to resemble collaboration hubs for teams to come together, brainstorm, delegate and discuss – after which they'll return home to complete their allotted tasks individually and in the comfort of their own homes.
Whatever you decide to do, Programmed has various options to flexibly fit almost every refurbishment, renovation, technology or maintenance need you may have. Explore your options and speak to Programmed today.