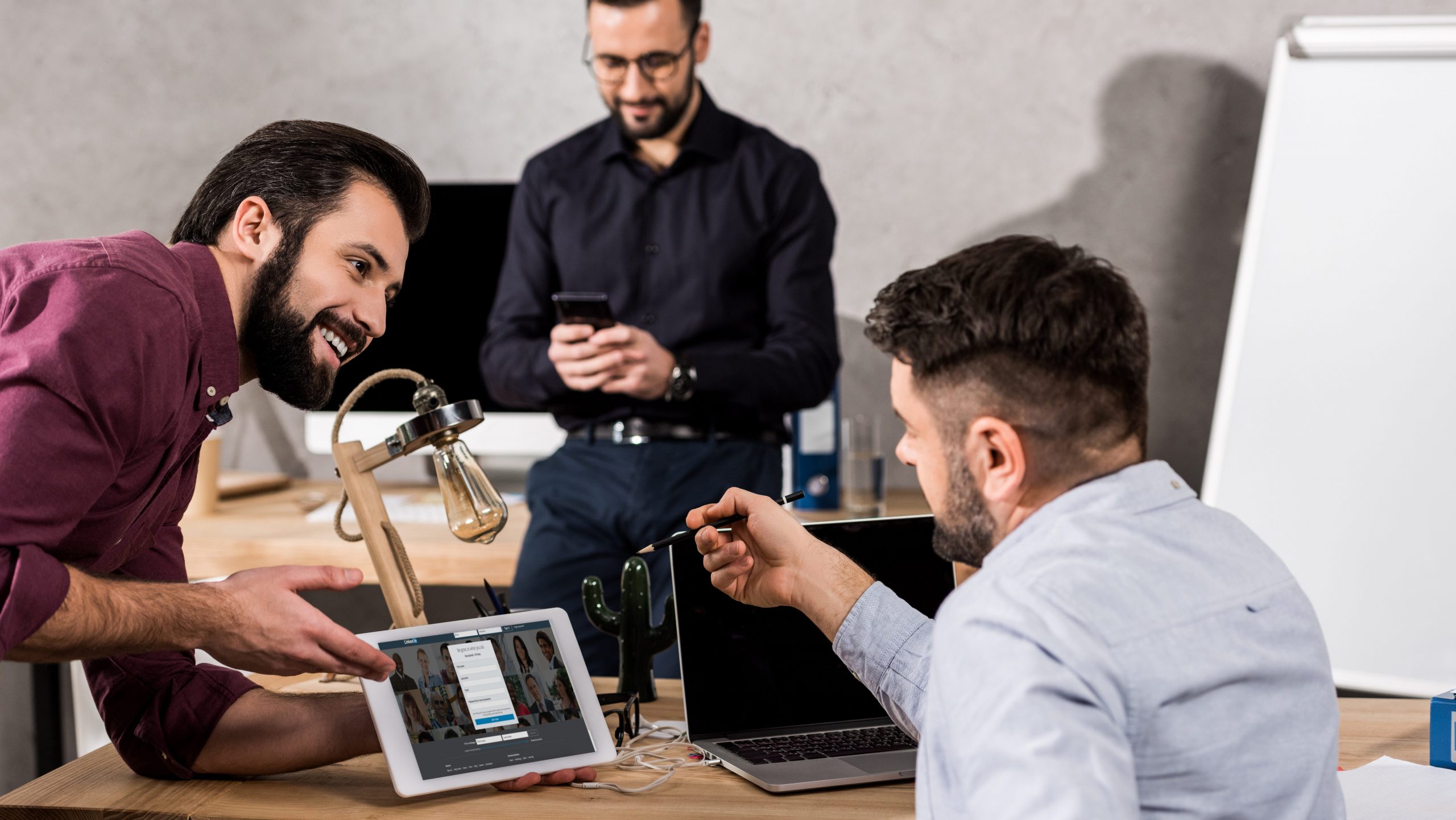 With nearly 800 million members, LinkedIn is by far the largest professional network in the world. Some people know everything there is to know about LinkedIn and use it to their advantage daily, while others may have created a profile several years ago and don't remember their password. These are two extremes, but if you're closer to the latter, your out of date profile could be harming your online reputation and result in missing out on new career opportunities, freelance work or sales leads.
If your LinkedIn could use a little work to get it to 'All Star' status, take a look at the tips below to turbocharge your profile.
Profile picture
We've all received a connection request from someone with a greyed out circle as a profile picture. It instantly suggests that person doesn't really use their account. If that's what your current profile picture is currently, it could be giving the same impression to others. Your profile picture should reflect you and also where you work as well as the type of work you do. If you work for an ad agency, wearing a T-shirt, jeans and sneakers every day, then having a suit in your profile picture doesn't make sense. The same goes in reverse, however, don't be too casual if your workplace isn't, this isn't Instagram. If not sure which way to go, go with a slightly more professional formal clothing option, it's better to be overdressed than under and it plays into the old saying 'dress for the job you want, not the job you have'.
Headline
Make sure your headline is up to date. For this many people will have their title and their workplace, however, you can make it say anything. If you hold several positions, are on a board, freelance among other things, then having a headline that summarises what you do will often be a better option than just the job title and company where you primarily work.
Add experience
Be sure to have at least three positions listed including your current or most recent role. If you changed industries at some point, older roles, or jobs you held during study probably aren't necessary. Add detail to the roles on your profile. Try to include KPIs met and impressive responsibilities where possible. If you were promoted within a company, make sure to show that progression, not just one title for the whole time you worked there.
Education and qualifications
Education is good to include, but don't go any further back than university unless you're a graduate. Other good information to include are volunteer experience, accomplishments, interests, publications and any new qualifications such as post-graduate study or certificates or training relevant to your role and field.
Don't recycle
Don't simply rehash your resume on your LinkedIn profile. Your profile is a chance to stand out and remember that people have short attention spans on the internet. So, use dot points and short sentences where you can and try to say a lot with a little when it comes to text.
Keywords
Add in keywords throughout your profile that will ensure your profile shows up in searches conducted by recruiters. Your profile summary and subject line (which can be your current role) are the best place to put these keywords.
Be open
Set your profile to 'open to work' if you're actively looking for work. Recruiters will see this and know you're open to opportunities. However, keep in mind that the recruiters at your own workplace might see this too. Also, add your contact details to your profile to ensure you're easy to get in touch with if you want people to contact you about jobs or leads.
Give and receive recommendations
Recommendations are like mini references. Just before leaving a job, it's a good idea to ask your superiors or relevant colleagues to provide you with a recommendation. If struggling to get people to provide them, it helps to do the same for them beforehand.
Proof it
Proofread your profile, perhaps even ask a friend to. Any spelling mistakes will undermine any achievements listed within your profile and will likely turn recruiters and potential customers off.
Vanity URL
Create a custom profile URL for your account. This way you can provide it to people easily as well as print it on business cards, your resume or put it in your email signature. It looks a lot cleaner to have LinkedIn.com/in/GregSmith than a jumble of letters and numbers at the end of the URL.
Stay up to date
Update your profile regularly. Your profile should always have an up to date picture, your current position and recent achievements. You should also periodically delete things from your profile. For example, if you made your profile a decade ago, having customer service jobs while studying on your profile probably isn't relevant anymore.
How strong is your profile?
Check your LinkedIn profile strength. Ideally, you want this to be 'All-Star', if it's not, keep adding relevant content until it is. You can see this on the top right-hand side of your Dashboard when viewing your profile.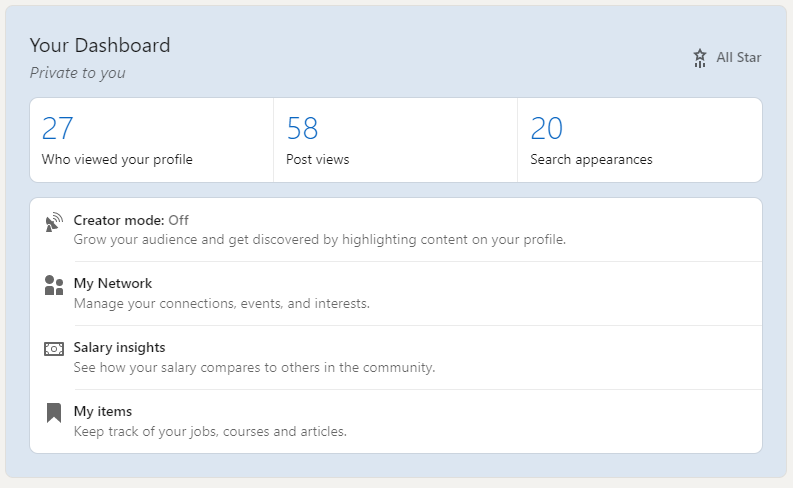 Use the platform regularly
Using LinkedIn correctly and frequently can help build connections leading to sales, job offers and more. Try the following:
Join and participate in groups. This can increase your visibility on LinkedIn and lead to meeting fellow professionals in your industry
Follow companies and influencers
Connect with colleagues past and present and those you meet through the course of business dealings
Publish posts and articles. When doing so, keep it timely, short and sweet and include a call to action where possible. Also don't go overboard with the hashtags.
Engage with content posted by your connections, companies, groups and influencers you follow
Don't reveal any proprietary information that is against company policy on your profile.
For more tips check out this LinkedIn blog about improving your profile.