Will your university realise sustained asset functionality and excellent presentation in the years to come? Astute universities are exploring efficient means of meeting complex maintenance requirements in funding-challenged environments. Can outsourcing progress the value chain through a long-term alliance able to offer universities cost-saving potential and unlock maximum value?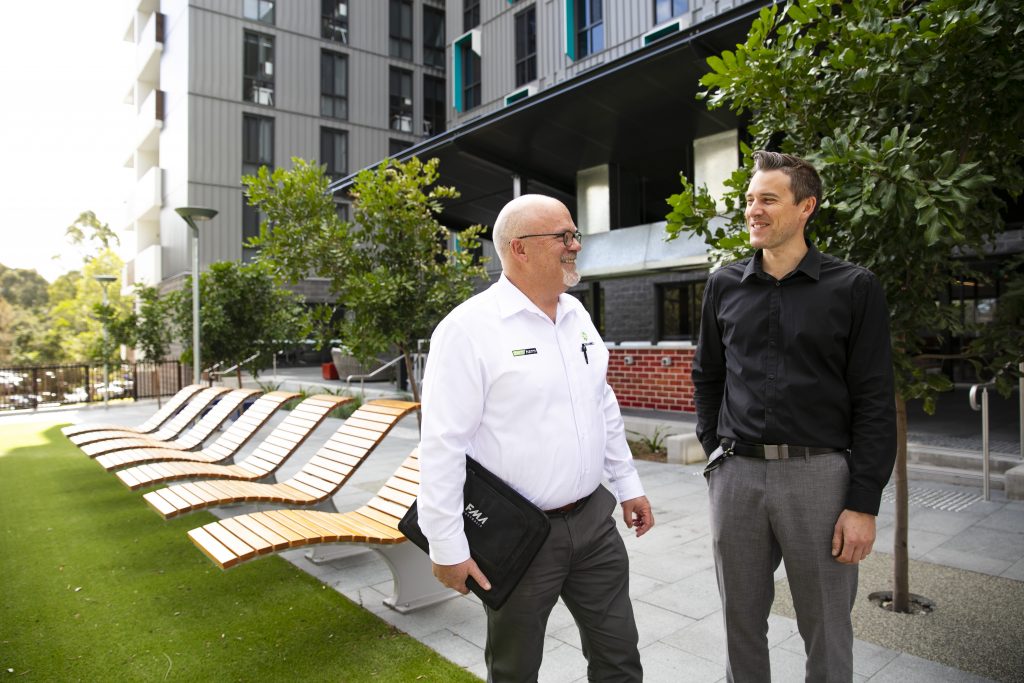 Maintenance specific to the University Environment
There is probably no organisation with as wide and varied a maintenance requirement and asset type as universities.
While successfully effecting continuous maintenance has long been a challenge for universities, recent trends have made it a strategic imperative.
The american-based firm, Education Advisory Board (EAB), which has worked with schools, colleges and universities on solutions and insights for decades, encapsulates the maintenance challenges for universities:
"Beyond tighter budgets and widening funding gaps, most institutions face the dual challenge of replacing or renovating aging buildings while maintaining newer "smart" buildings that require more frequent and complex upgrades," says EAB.
Adding to this complexity is the fact that there is no one-size-fits-all solution that can be applied to all universities – each has a unique context and set of individual conditions.
"A huge and growing deferred maintenance backlog is arguably one of the most daunting challenges facing most campuses. While a select few institutions have managed to eliminate (or nearly eliminate) deferred maintenance over time, the majority of these institutions possess unique, hard-to-replicate circumstances that have contributed to their success. Realistically, most institutions must adopt a methodical, slow-and-steady approach to smartly chip away at their backlog over time," EAB adds.
This is comprehensible as university facility maintenance encompasses indoor and outdoor areas, built assets and infrastructure, learning and living spaces.
The broad spectrum of campus facilities and the challenge of effective maintenance
A snapshot of universities includes buildings, grounds, auditoriums and laboratories. The spectrum of campus facilities stretches from wind tunnels, simulation hospitals and radio production suites to sports fields, ovals and gardens with pathways leading from learning areas to communities, shops and university accommodation. Less commonly noticed, but no less important, are stairways, air conditioning, fireboxes, alarms, beds and amenities.
And with digitisation, there is 'unseen' infrastructure facilitating lighting and connectivity, data and communication, as well as audio-visual interactivity.
Understandably, senior leaders of facilities departments tasked with ensuring on-going operational functionality – who must simultaneously align maintenance decisions with budget models or strategic plans – may find this somewhat overwhelming at times.
A depth of actionable information for making better, more informed maintenance decisions is needed, as is implementation and administration expertise. Curating the correct equipment within a sufficiently broad and deep inventory able to address both specialist and everyday requirements, and maintaining these to ensure reliable performance can be costly. Retaining frontline staff who are motivated to deliver continuous high levels of service adds but one other level of complexity (and arduousness) to effective facility maintenance.
How then can facilities operations both effectively maintain an optimally operating environment while simultaneously advancing towards improvements for the future? How can they effectively address the needs of different asset classes according to whether they are aging or new, requiring maintenance, replacement or renovation? How do they effectively keep track of on-going works and still plan for the future?
Daunting as these complex maintenance requirements are, their actual implementation need not necessarily be.
Solutions that deliver value
Outsourcing partnerships can help facility departments deliver value to universities. Such partners have the equipment, technology, expertise and processes to simplify operations, reduce costs and improve outcomes. In so doing, universities can take advantage of the commercial capabilities of their outsourcing providers to increase internal efficiency and responsiveness to high priority goals.
A company like Programmed which has expertise in multiple areas of commercial asset and facility maintenance can streamline these manifold needs into a single, integrated solution to simplify implementation even amidst seemingly complicated hard-to-resolve needs.
Where there is a backlog, professional maintenance organisations like Programmed can appropriate large operational teams to overcome these and in comparatively shorter periods. Broad industry experience can help identify customisable solutions for operational effectiveness, energy efficiency, design and construction and even sustainability.
These relieve challenges related to time, resource and knowledge. Risks associated with multi-site and or multi-asset maintenance, especially in the areas of project management, reporting and safety are alleviated.
Facilities departments that leverage the outsourcing partnership for industry knowledge achieve improved efficiency and effectiveness, entrenching the department's important contributions to university presentation and functionality.
Of the 51 universities across Australia and New Zealand, 32 have worked with Programmed. Of these at least 50 per cent contract Programmed for multiple maintenance requirements that range from long-term grounds maintenance, painting and washing programmes to electrical and audio-visual installations.
Programmed also provides a whole life asset management services as part of Public Private Partnerships (PPP) for student accommodation facilities, partnership arrangements that span 30 years or more.

Speak to Programmed today to see how your university operations can instil efficiency in maintenance. Ask about our unique Campus Distinction Program targeted at addressing complex maintenance decisions in funding-challenged environments.
[maxbutton id="9″ ]