Signage in the 21st century is very different to when I started 25 years ago. Back then it was quite broad based. A sign writer would work together with a boiler maker or a carpenter and set up a business that would cover most of what was required to service a client. As the requirements of clients increased and the quality of different signage solutions became available, the two man business had to grow quickly or perish. Many went the later way. Those who survived went down one of two paths. The first was to grow and resource a factory with a multitude of trades and equipment (a big beast to feed). The second was to specialise and work together with other contractors to complete a whole job. This later paradigm was the genesis of the "project management" style company.
by Derrick Dew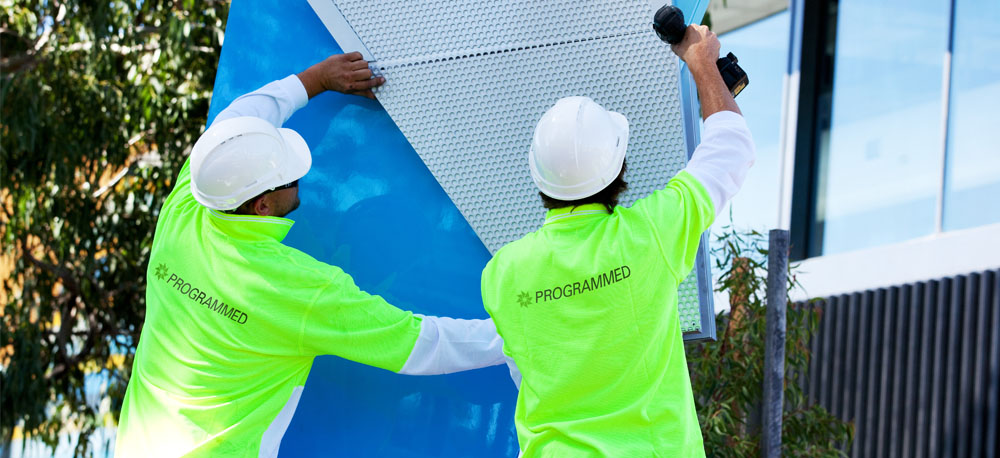 Many companies have to one extent or another gone down the project management path. The advantages to this style include:
* Strong relationships with many companies.
* The ability to resource a multitude of works quickly.
* To be at the cutting edge of technology without a huge investment or overhead.
* And have the fluidity that many companies are looking for in a rollout.
The key to this type of company is people with strong interpersonal skills as they are responsible for sourcing the work, as well as being able to manage multiple skills and companies when out-sourcing to "subcontractors". Relationships are the key to having a strong subcontractor network. This network is based on a mutual respect for the role each contractor has within a project. Much like a "footy" team each contractor plays a specific role from the outset – like at the design stage where the experience of each contractor usually outweighs the experience of the project manager, or through the pricing stage where the collaboration from all the trades are combined with the project manger's knowledge of the project to get a value driven price to the client. The implementation of multiple trades is able to complete the project on time, on budget and exceed client's expectations.
There are many "signage" business out there that cater to all sorts of clients, look around for the company that suits your needs, but do not discount the subcontractor based business to effectively service your needs.