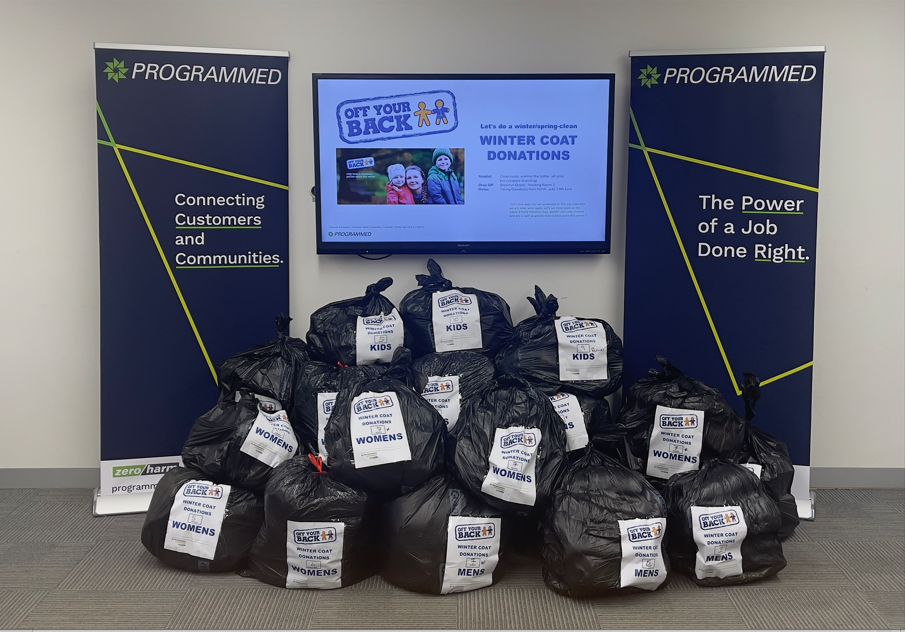 Winter is here, and the biting cold can be unbearable for those without proper clothing. But fear not, because the amazing Programmed team at Great Western Water came up with a heartwarming initiative to help those in need to stay warm.
The team organised a coat drive to collect pre-loved coats and jackets, which were then donated to the Off Your Back fundraiser. This fundraiser encourages people to donate their pre-loved coats to homeless men, women, and children, ensuring they can stay warm during winter.
Throughout June, our team received over whopping 175 coats in various sizes for men, women, and children. These coats were carefully washed and packed into 28 bags at our Greater Western Water location, ready to be delivered to a designated foundation in Bayside, which works closely with refugees and people experiencing homelessness, ensuring that the donated coats reach those who need them most. The distribution of these coats will begin promptly, providing warmth to those in need within the next few days.
At Programmed, we believe in fostering a purpose-driven community where our staff Work and Smile throughout their daily job. By recognising the larger purpose our work serves, we strive to make a positive impact on people's lives. Through our commitment to helping others and our dedication to delivering impactful results, we aim to bring smiles to the faces of those we encounter.
Keep up the great work, team!