We had the privilege of listening to the girls at a recent Tradeswomen Australia event talk to a group of women about Programmed and their roles as Painters to educate, inspire, and encourage women to consider a trade career.
Candice joined our Property Services' Northern Branch as a third- year apprentice and is now a qualified painter and Marcii is a second-year Apprentice in the team.
Here is some insight into what they shared with the group.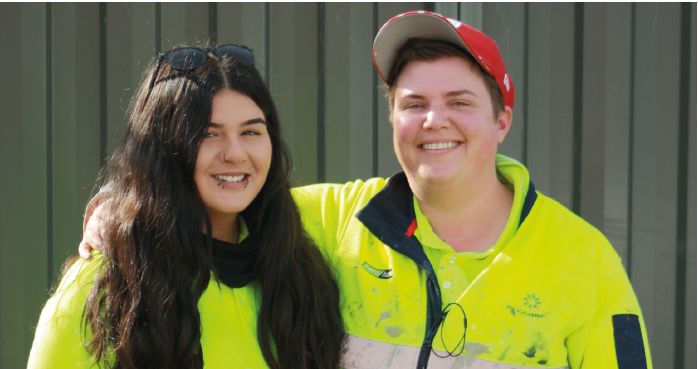 Tell us about your role and what that involves?
Marcii: I'm a 2nd Year Painting Apprentice. My role involves me going to different customer sites and prepping surfaces, painting and cleaning up in a team and individually. As an Apprentice, I'm still learning the trade, so I also go to trade school for a week block every eight weeks. It allows me to learn more of the practical skills of painting which is great.

Candice: I joined Programmed during the third year of my apprenticeship, and at the end of last year, I became a qualified painter. Like Marcii, my role involves going to different customer sites, prepping surfaces, painting, and tidying up. Now that I am trade qualified, I can take on more responsibility and work more independently, which has been rewarding.
Who or what influenced you to go down a trades career path?
Marcii: I've always enjoyed being hands-on, working with tools and being creative. My dad is a mechanic and he has always been supportive of a trade career. He would always encourage me to do what I wanted as long as I enjoyed it. I tried all different types of roles beforehand, beauty, reception and stocktaking. I was unemployed and heard that Programmed was looking for more women to be painters as part of a Launch into Work Program. I saw this as the perfect opportunity to give a trade a go, and I was interested in painting and decorating. It was also important to me to find a job and a company offering stability and future career opportunities.
Candice: I tried many different roles like retail, cleaning and pick packing. I then started a diploma in early childhood education, but I didn't enjoy the work placement. I then searched online to see what pre-apprenticeships were available and saw the opportunity to do a pre-app in painting & decorating. My pa and nan gave me some money to put towards the course. It was tough as I was studying full-time and also working in the evenings. Pa was from a trade and there were no other tradies in the family. He knew it was a good career choice as there is the potential to run your own business, so he pushed me to give it a go. I also had a lot of encouragement from a female worker at one of my jobs who pushed me to look for a career beyond retail.
What's your working environment like?
Marcii: Really good. It's a safe environment, and the team is supportive. There is no gender bias when it comes to the tasks that need to get done. Everyone does the same work, or we make sure it's rotated amongst the team. My team understands that I'm still learning. They are patient, and I know it's ok to make mistakes and learn from them.
Candice: My previous environment before joining Programmed was not great at all. It was unsafe and we weren't treated very well. But, at one of our painting jobs, Programmed was working there too and I got along well with the team. I knew that Programmed was the right company that I wanted to be part of and I've never looked back. Everyone gets along, we work together to get the job done, and everyone is supportive of one another.
What is your greatest achievement or biggest challenge to date?
Marcii: My biggest achievement so far is making it through my first year. The first year had its physical challenges as I wasn't used to it and I felt it at the start. The first year also took me out of my comfort zone and it has taken a little time to feel comfortable to socialise with the team and let my guard down. Candice has been a great support to me. Having another female in the branch has helped and made it easier.

Candice: I'm proud of myself for completing my apprenticeship, becoming trade qualified, and staying on with Programmed as a Painter. The four years was worth it. I also feel that not giving up when I was with the other company when things were bad is also an achievement. My determination to make things happen led me to secure a job at Programmed I love. A challenge for me has been trying to get over the fear of heights. It's taken some time, but it has
made it easier to manage as I get to do it every day.
What are your future career aspirations?
Marcii: I'm torn between progressing in the company as a foreperson or project manager. I'm keen to explore furthering my qualifications and maybe even starting my own business one day. At the moment, I'm focusing on my apprenticeship to be a qualified painter.
Candice: I hope to become a Foreperson at Programmed one day.
Interested in finding out more about opportunities for women in trade? Email womenintrades@programmed.com.au
or call 0437 247 935 today!