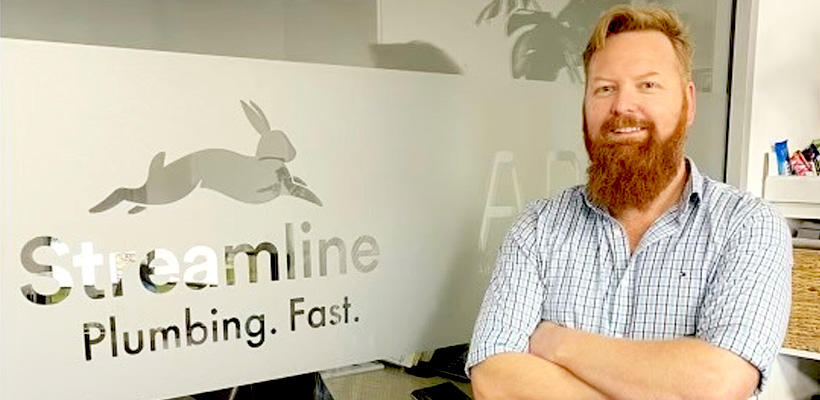 In 2001, Programmed started providing a range of maintenance related services on behalf of the SA Housing Authority in regional South Australia.
Fast forward to 2021, where we are now servicing 15,000 dwellings around Adelaide and responding to over 65,000 maintenance requests each year. We partner with the SA Housing Authority and our existing network of subcontractors to ensure these community homes stay safe and secure.
We couldn't do it without the help of our fantastic vendor partners in SA. Building strong relationships with our vendor partners is vital at Programmed. We want to work with companies that provide quality services and share our values and desire to give back to the communities where we work.
So, we wanted to shine a light on some of the great subcontractors we work alongside each day – starting with Derrick Watson at Streamline Plumbing.
Tell us a bit about yourself and Streamline Plumbing
I am the Operations Manager for Streamline Plumbing, and I have been with the company since 2013.
Streamline Plumbing was established to fill a gap in the market for long-term, high-volume industrial and commercial plumbing contracts, like social and defence housing contracts.
Traditionally these contracts have been serviced by smaller companies. We are one of the first companies in Adelaide to modernise and do it on a larger scale. Housing Authorities are now one of Streamline Plumbing's specialities.
In the broader business, we do construction jobs up to two million dollars. Infrastructure upgrades for schools and things like that are the more significant projects for us. Our civil pipeline maintenance division work on extensive road infrastructure upgrades. Plus, we have a retail hot water business as well. So we are quite diverse!
What is your relationship with SA Housing Authority and Programmed?
We have been working with Programmed and the SA Housing Authority since 2013.
In 2013 Streamline and Programmed tendered for one region SA Housing Authority and won. In the past, I worked out in the field for another plumbing company doing maintenance for SA Housing Authority homes. So I came across to look after the region because of my experience with the contract and the work. Within twelve months, we had picked up the remaining three regions and have been working together ever since.
How does Streamline Plumbing give back to the South Australian community?
One of the ways we give back is by offering apprenticeships to young Adelaidians keen to learn a trade.
We have worked with SA Housing Authority and Programmed for many years now. We have a pretty good idea of the qualities and skills we are looking for in maintenance and infrastructure employees.
Earlier this year, Programmed invited us to a networking lunch for the 'I Got Built' pre-apprenticeship program. Most of the graduates were considering working in construction. So it was an excellent opportunity for them to speak to people who work in the industry. They could also ask questions to see if an apprenticeship is for them.
How does the team deliver Streamline's core values each day?
Our management philosophy that drives everything Streamline Plumbing does is 'Highest Quality, Lowest Cost Every Time'.
Quality covers the quality of our work, but it also covers outcomes for our employee's well-being and safety. Cost is how efficiently we can deliver our services – ensuring they are environmentally friendly and there are no unnecessary costs anywhere, of course.
Thank you to Derrick and the rest of the Streamline Plumbing team for your work on behalf of Programmed to help us support vulnerable South Australian's.