In 2009, Monash University moved to streamline their grounds maintenance. In making the decision to entrust their grounds assets and sports fields to an external party, the University needed assurance that their new grounds partner would understand the immense requirements surrounding its grounds management.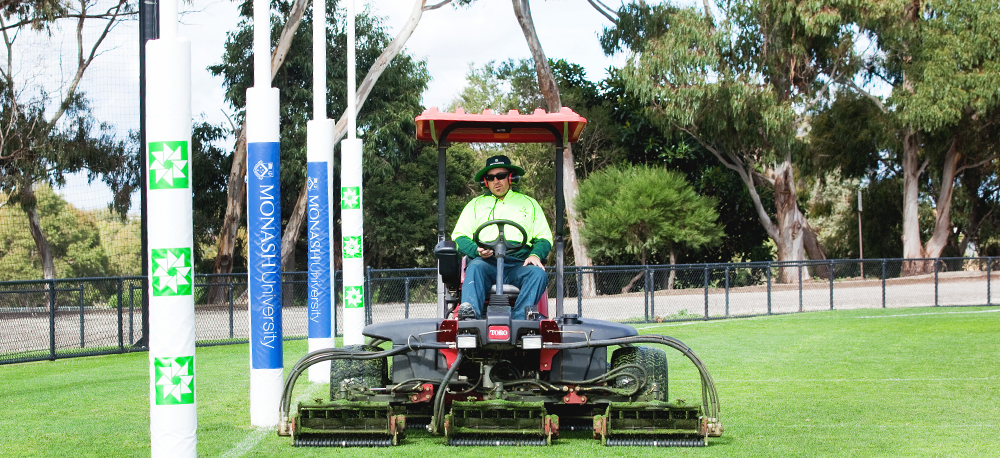 More than that, Monash University wanted confidence that this team could fully appreciate the important role these green open areas played. Rather than just a backdrop conducive to learning, this sprawling native landscape was the environmental milieu that, alongside the University's architecture, history and curriculum, would be quintessential to how this world-class Australian University cultivated tomorrow's leading thinkers.
Beginning on a hot summer's day in 30 plus degree heat, Programmed successfully helped Monash University transition to a new model. With Programmed's help, the University was able to establish better systems and structures for managing assets and communication, improve management and realise operational efficiencies as well as optimise resource allocation. Programmed provided a roadmap that served not only as a guide but also provided realistic milestones to gauge what they had achieved.
The partnership yielded tangible positive results. Visible improvements were seen across not just the main Monash Campus in Clayton, but also its other campuses in Berwick, Caulfield, Peninsula and Parkville. Of such high quality were the sporting ovals that the Australian Socceroos team picked the Monash University fields to train on in the run up to the 2010 World Cup. Meanwhile, empirically evidenced Condition Assessment Data audit results showed a consistent uptrend, and in the first term as the University's grounds maintenance contractor, Programmed delivered a total cost reduction of $2 million against the University's budgeted spend of approximately $12 million.
Monash University found the benefits and value Programmed delivered went beyond rudimentary services and in 2014, following a rigorous tender process, re-awarded Programmed with the contract to oversee its grounds maintenance function for all of its campuses and sports ovals.
Looking for a partner that really cares about you and your grounds? Then get in touch with Programmed and see how you can take your grounds to the highest level.
[maxbutton id="1″ ]