Good signage bolster your ability to impress. Reputation is central to a school's success. Many obvious factors influence where a student is enrolled, including examination results, educational outcomes, faculty quality, and the integrity of the student body.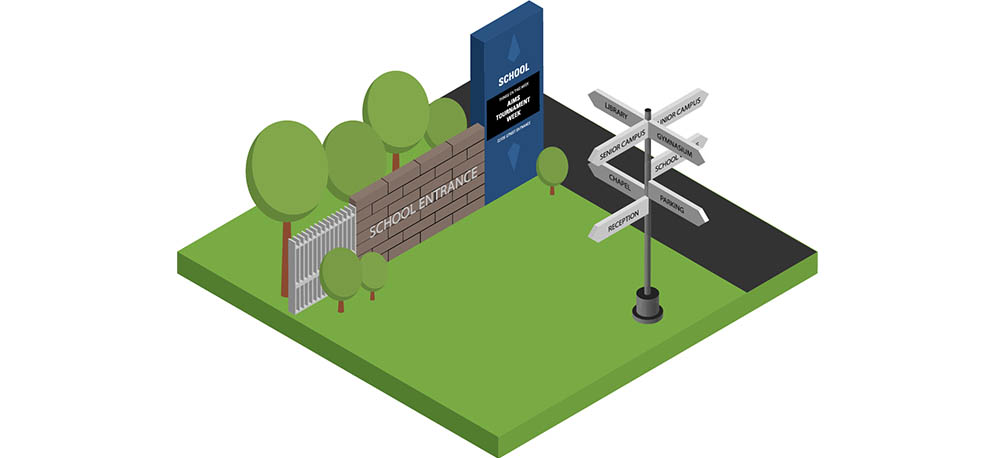 However, efforts to build prominence through academics can be impacted by a lacklustre school environment further compounded by poor signage.
Incongruous signage can contribute to confused and chaotic experiences for visitors, first time families and prospective students. Conversely, good, well-designed signage able to simplify navigation through an unfamiliar site adds to an overall positive encounter.
Developing and implementing a wayfinding strategy for the education sector can amount to a science. As a school, university or higher education provider, your signage system may be able to guide faculty and students throughout different areas of the school or campus. Yet it may not be fully maximising opportunities to emphasise your prestige and name. Alternatively, the aesthetic appeal of your signage could be costing you the ability to build your reputation.
With proper planning that leverages expertise, you can have a signage solution that correctly augments the educational experience you offer against a backdrop able to facilitate transitioning between classes. Students and teaching staff can find their way from one class to another with minimal disruption.
For example, lessons and lectures finishing at the same time are akin to peak hour traffic. In the midst of students rushing to change classrooms or moving between lecture theatres, unclear signage adds to the day's disorder. Yet a strategic signage solution designed around comprehensive wayfinding and featuring easily grasped information can aid the unimpeded flow of traffic.
Good signage is an unsung brand hero. 
Well-designed signage implemented consistently helps portray a unified brand and image. Often branding and signage in the education sector favours external areas. However, rather than restricting indoor signage to purely directional purposes, consider capitalising on the branding opportunities signage offers your interior spaces. Retaining the level of appeal and wayfinding principles inside buildings ensures the continuous resonance of your brand and prestige across all areas.
Good signage builds consistency and congruency.
Many schools and universities are composed of different structures which may have been built at different periods or refurbished to accommodate more students. It may also include expansion across additional sites.
Often, such development can result in a lack of brand or image congruency. With expert guidance in signage design, brand cohesiveness across different sites and buildings can be implemented, regardless of location. This provides assurance of similar levels of education standards across sites.
Site-specific circumstances can also be taken into consideration where relevant to synchronise signage the landscape or architecture.
How can you further your reputation through branding and signage that provides smooth navigation throughout your site while also enriching your prestige in the eyes of the faculty, student body, and parents? Find out now with a chat to the experts at Programmed Property Services today.
Click to read more about…