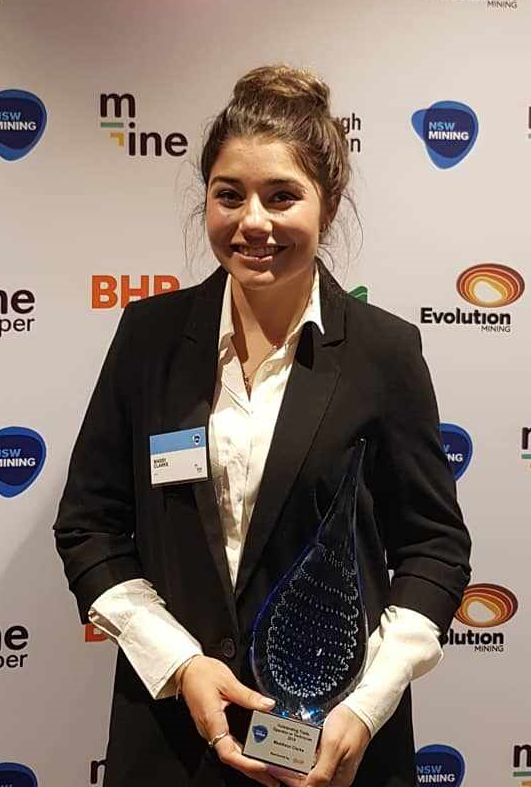 Congratulations to Maddison Clarke who has won the Outstanding Trade, Operator or Technician award at the 2019 NSW Women in Mining award.
Maddison completed her Heavy Plant Mechanical apprenticeship with Programmed earlier this year at Yancoal's Mount Thorley Warkworth site in the Hunter Valley NSW.
Maddison always wanted to do something hands-on like working as an 'old-school light vehicle mechanic', but there were no opportunities for this career path in her area. It wasn't until an equipment manufacturer visited her school to talk about the advantages of apprenticeships over university that she decided to check out a career as a plant mechanic.
'I first tested the waters through work experience and loved it! After I finished Year 12, I was lucky enough to gain an apprenticeship with Programmed,' Maddison said. 'While at Mount Thorley Warkworth, I spent time in all sections of the mine from light vehicles, infrastructure, mobile gear and heavy machinery, doing repairs and breakdowns.'
Some of Maddison's highlights from her apprenticeship included times where she could test her problem-solving skills out in the field. Particularly, her time spent as a Breakdown Fitter in her fourth year and an exchange to Karratha Gas Plant.
'I had to rely on my knowledge and problem-solving skills to figure out the fault and diagnose the problem. In Karratha, I got to use completely different approaches to problem-solving as a result of working with highly flammable gas. It always gave me a great sense of achievement to be able to do this,' Maddison said with pride.
Like others before her, Maddison faced discrimination based on her sex while working in a trade. Rather than letting that get her down, it only made her focus and determination stronger.
'I did experience sexist comments and challenges when I first started. Men not letting me work because they thought I'd be too weak or wouldn't know something just because I was a small female. I took those comments as a personal challenge to prove those people wrong.
'All the challenges I faced only made me more determined to show people how good at and how dedicated I am to my job. They have not deterred me, but have made me want to help the future generations coming through or anyone else having difficulties.'
Maddison is now a fully qualified tradesperson, working with a local NSW mining maintenance company based out of Four Mile and Rix's Creek mines.
'Every day, I am learning new things and enjoying new challenges. Having spent the past two years on heavy machinery to now working on mobile gear, it has been a small step back trying to re-familiarise myself with the machinery, but I have had great support from my new peers.'
Maddison is already planning her next qualification, a Certificate III in Automotive Electrical Technology to add to her belt. She is also keen to become more involved in encouraging more people, especially women, to take an interest in mining careers.
When asked what her advice would be to other young women looking at a career in trades, Maddison said that educating yourself was the most important thing.
'Go to information nights, go to open days, ask people you know what the pros and cons are, decide if this seems like the job for you. If it does, then go for it – apply online, keep an eye on job websites and look out for apprenticeships or traineeships.'
'Also, don't be disappointed if you don't get it the first time around. There are thousands of applicants in the same position as you. Keep asking questions and ask for feedback; don't give up!'
---
Looking to create a career pathway through a traineeship or apprenticeship? Browse opportunities here