Programmed has always been a proud supporter and sponsor of OzWater, the peak water industry conference run by the Australian Water Association (AWA). Ozwater was founded to connect passionate water executives, both young and experienced, to drive a sustainable water future.
This year's theme was 'United by Water', where we celebrate water's vital role in connecting us all. Water touches every aspect of development. It drives economic growth, supports healthy ecosystems, and is essential and fundamental for life. Our collaborations in water management continue to guide us in this integral space.
Held in Sydney this year from 10 – 12 May at the International Convention Centre (ICC), the conference attracted more than 5,000 delegates from water companies, partners and suppliers across Australia.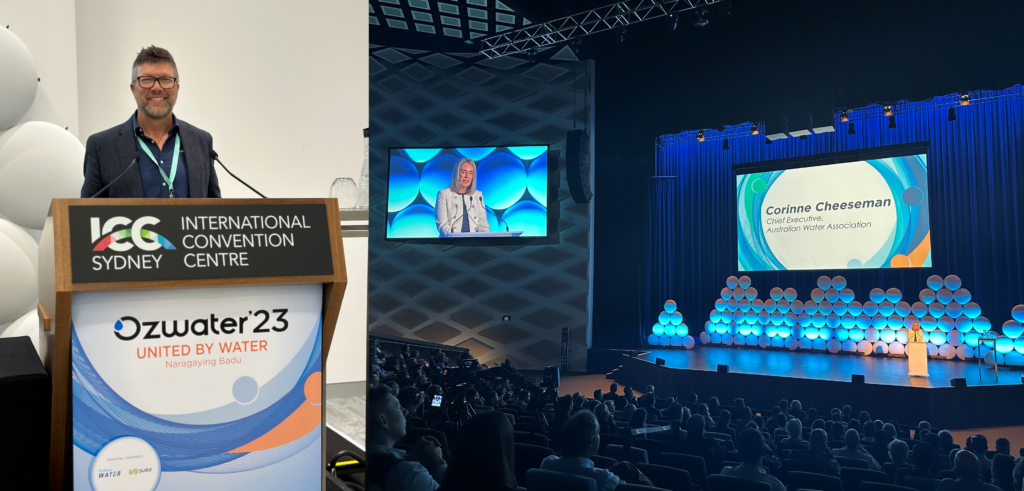 The themes at the conference resonated strongly with our Programmed delegates and our work in the water sector. The majority of our OzWater delegates have shared the following key highlights and takeaways below, which they will take home in their day-to-day work:
Connections
Having the opportunity to network, learn and collaborate with like-minded, passionate individuals in the water sector ranging from colleagues, clients, vendors and subject matter experts — paving the way for establishing more effective relationships and opportunities.
Learnings
Best practices, innovative water technologies and trends were key highlights of the conference. Artificial Intelligence (AI), Environment, Sustainability and Governance (ESG), Climate Change, the challenges of achieving net zero emission for treatment plants and the way forward were just among the big topics discussed during the conference that resonated with the team leaving everyone inspired and motivated to achieve a better and sustainable future for all.
What the Future Looks Like at Programmed and the Water Industry
So what's next? Learning from various water companies and authorities and being able to tie them back to Programmed's processes to achieve better outcomes is vital. Programmed looks forward to partnering with our water industry partners to champion safety, diversity and sustainable initiatives.
For more information about our capability in the water sector, you can check the link below: Water Network Maintenace.