For our first and second year National Energy Technician Training Scheme (NETTS) apprentices, learning new skills and gaining the knowledge they require to have long and successful careers in the oil and gas industry, isn't all gained in the classroom or out in the field.
Workplace learning, across industries and in metro locations, is a key enabler to supporting the learning and development of our future workforce.
To help ensure a variety of work and life skills are gained during their training, our apprentices are provided with the opportunity to extend the scope of their trades through work placements with local businesses.
The benefits of this experience stretch far beyond a change of location. Secondments help provide not only the traditional skills associated with the real working world like punctuality, professionalism, and of course some good old-fashioned hard yakka, this experience also serves to open their mind to different ways of working across cultures, experiences and industries which they may not normally be exposed to, helping create a more balanced view of the world of work.
"This is our first year playing host to a NETTS apprentice and we could not be happier with the outcome. We really value the opportunity to work alongside these young, enthusiastic people and help shape the future workforce" – Eamon O'Brien, Hofmann Engineering
Mechanical Fitters will have an understanding of what happens to the valve once it is sent away for repair by working in a downstream service and supply chain company such as Geographe Enterprises and Callidus Process Solutions. Our Process Operators will be able to draw on experiences gained from observing processes beyond those in oil and gas facilities through placements at the NewGen Power Station or the Perth Desalination Plant, and Instrumentation Electricians will gain not only those mandatory skills required for their trade certificate but also a taste of life in the domestic and commercial installation sector with companies such as Cousins Electrics and Programmed Electrical Technologies.
This broad and innovative approach is just one of the many initiatives that set a NETTS apprentice ahead of the rest, paving the way for the next generation of oil and gas industry workers, and offering future host employers a workforce more fit and ready for a long and successful career in the industry.
The many benefits of hosting an apprentice
NETTS secondment partners are very willing participants. With no cost to the host company, this program provides the opportunity for organisations to welcome educated, safety conscious, eager apprentices, who not only have the ability to provide some valuable semi-skilled assistance to the team, but who can also offer a fresh perspective on sometimes, well-established habits and routines entrenched in a business, often acting as the catalyst for improvements to operational processes and procedures which may help improve safety and productivity on site.
The feedback from participating businesses is always overwhelmingly positive, often stating that the NETTS apprentices have managed to challenge common misconceptions and praising them as being the best onsite, and welcoming them to return as soon as they are available
Constructive and valuable feedback from participating employers during and beyond the secondment helps motivate apprentices, boosting confidence and providing belief in their ability and skills throughout the transition from classroom to the workplace.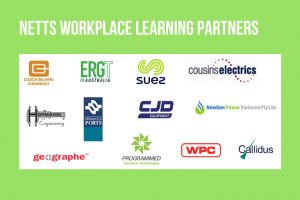 On behalf of Programmed, our NETTS partners Shell and Quadrant and the apprentices, we would like to thank all our secondment companies.
---
If you would like to know more about hosting a future NETTS apprentice, contact Lucie Alexander on phone 08 9479 0111
Looking to create a career pathway through a traineeship or apprenticeship? Browse opportunities here