Programmed trainee Kathleen Jones, Installer Repairer with Telstra in North Queensland recently won the 2018 Bob Marshman Trainee of the Year award, as part of the Queensland State training awards program.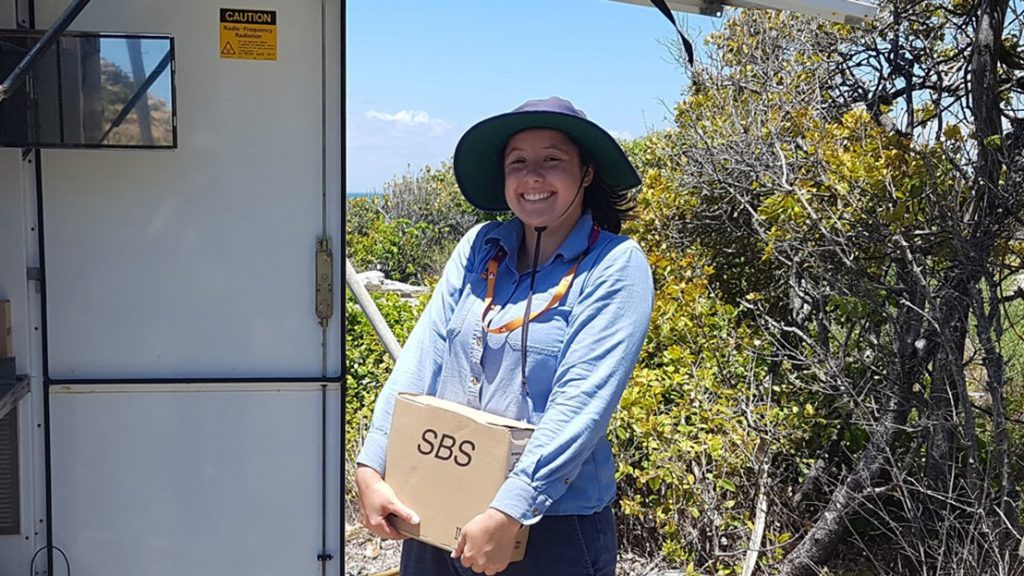 Having completed an apprenticeship in the automotive industry, Kathleen knew she had what it takes to undertake further VET qualifications. She was looking for a flexible career path, one that would allow her to expand her skills and experience. When an opportunity to work for Telstra came along, supported by a Certificate III in Telecommunications Technology with Programmed, Kathleen recognised it as a perfect chance to make that change.
Tell us a bit about your background.
I grew up on 10 acres in a small community on Magnetic Island in North Queensland. I always struggled to maintain good grades at school, so in an effort to make sure I graduated, I attended Townsville Grammar School for the last two and a half years of my schooling education. This helped me to attain my QCE and graduate year 12, which is something I thought I would never achieve.
I was the first woman in my family to graduate high school. I knew that university education was not suited for me, as I learn more efficiently by doing practical work, rather than be in a classroom environment. I completed my Mechanical Apprenticeship in 2015 in Townsville, and I won Apprentice of the Year for Northern Region through Ford. I always had a love for fixing things.
I moved to Ayr in 2016 and worked the sugar crushing season on the Locomotives as a Pointsman. As the season was wrapping up, I wanted a career I was passionate about again, as well as having a job locally. That is when I started looking for other opportunities.
How did you find out about our traineeship program?
I started searching for opportunities to further my career online. I wanted to find a job locally so I wouldn't have to drive back and forth from Townsville every day. I came across the position of a Telecommunications Technician with Programmed hosted by Telstra, and that seemed like the perfect opportunity for me to jump on board to.
How has your experience been so far?
Amazing! For a young person, I have had a fair bit of exposure to different workplaces. I can confidently say that the workplace environment that Telstra provides is unlike any other. The amount of support and development available doesn't compare to anywhere else I've worked. During my traineeship, Telstra, Programmed and Comtech all collaborated together to make the experience less stressful and allowed me to focus on my studies as well.
What are some of the key highlights from your traineeship?
The best part is that I get to meet so many new and diverse people – in my local Telstra Team, my Trainee Group, and lots of different customers.
It has also been really great getting to know the community in which I've moved to. I'm considered one of the local faces of Telstra, and I am always catching up with my customers outside of work. Being that it's such a small community, customer service is always my highest priority.
What are your plans for the future?
To work hard! I would like to eventually be trained in Telstra Transmission and Radio systems to better service my community. Currently, team members with Transmission and Radio systems skills have to travel to my area to repair these systems. If I learn these skills, I can better serve my community by being able to help with these services myself.
Most recently, I was picked for a 10 month mentorship through Telstra called 'Succession to Leadership'. I am the only female in the group with the least amount of experience working for Telstra, which is a big achievement for me and an even greater opportunity. I am working hard to absorb as much as possible from this course to help support my Telstra Team.
What advice would you give to people, especially young women, looking to start their careers or are not sure how to?
To just give it a go! Everyone should be confident and be committed. As long as you have a 'can do' attitude, it doesn't matter how long it takes you to learn something. The best thing about Vocational Education and Training (VET) is that you earn a wage while completing your training. If you decide that the course you're doing isn't for you, or you finish and want to go onto something else, you can look at RPL (Recognition of Prior Learning) matching modules and complete your next certificate faster. VET is flexible around different lifestyles and commitments. If you feel your current workplace isn't as accommodating as you would like, you can always change to a different workplace and continue the same studies.
My advice for women in particular is to be resilient. This will come naturally if you have a positive attitude and have the ability to see criticism as feedback – use it to help develop your skills and succeed.
---
Looking to create a career pathway through a traineeship or apprenticeship? Browse opportunities here