COVID-19 has proved a challenging time for everyone. The changing pace and nature of work has seen all types of workers, including our FIFO (fly-in-fly-out) National Energy Technical Training Scheme (NETTS) apprentices, adapt to a whole new world. All 51 NETTS apprentices have been de-manned from their usual offshore oil and gas worksites and returned to their 'home bases'.
NETTS recruitment promotes and encourages applicants from all over WA and throughout regional centres. We place a strong focus on the Kimberley region as many of the states' major gas projects including Shell Australia's Prelude and INPEX's Icthys project are located nearby; all 'chopper' out of Broome to their offshore assets.
The Kimberley region has proved a rich source of strong, capable apprentices for our NETTS recruitment campaigns. Programmed work closely with Broome Senior High School and the local Clontarf Foundation to spread the word and make sure the high school graduates know about the opportunities available to them.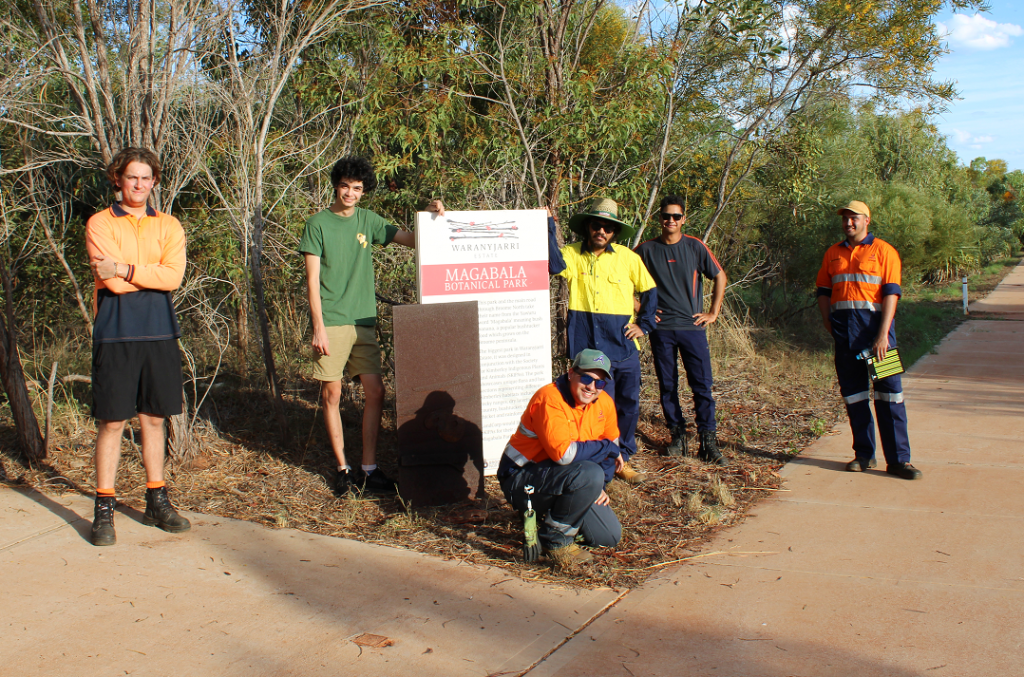 With our trade apprentices now adjusting to working from home, our team got together to brainstorm activities, challenges and volunteer opportunities that would see the local Broome apprentices collaborate, giving back to their local community and putting their skills to use.
Tremayne Ogilvie, Billy Bowles, John Bin Sulaiman, Celestino Mayor, Ainsley Richardson and Dougie Pigram represented NETTS and our host companies Santos, Shell Australia, INPEX , Woodside, BHP Billiton and Vermillion Energy, by getting involved in a worthwhile project in their home town, working with the Society for Kimberley Indigenous Plants and Animals (SKIPA).
SKIPA is a group of dedicated and enthusiastic naturalists who propagate Kimberley plant species, undertake field trips to collect specimens, conduct flora and fauna surveys, and undertake weed control work. They needed on-ground gardening support for their project to grow local plant species in the Broome North Botanical Park.
After an all too familiar Zoom meeting with the key stakeholders to set the ball rolling, our local apprentices undertook a full risk assessment, prioritised tasks and delegated jobs before rolling up their sleeves and putting in some good old-fashioned hard work, albeit socially distanced of course!
Phil Docherty, resident volunteer and Clontarf Manager in Broome praised our apprentices.
'These young men have been able to contribute to maintaining a community asset. Their youth, strength and hard work are gratefully accepted by SKIPA and The Shire of Broome and highlight the great work of the network of Clontarf Alumni here in Broome.'
Programmed value the communities in which we operate, and provided further supportwith a cash donation to buy tools and equipment to help our apprentices carry out their tasks safely and leave a legacy for future volunteers.
Tremayne Ogilvie, third-year Mechanical Fitter for Santos said, 'volunteering for SKIPA was really worthwhile – after just a few hours with the team, the progress was evident and it was good to be out with my teammates.'
We are #programmedproud of the great work from our local Broome team. We are hoping that this partnership can continue with our team still pitching in on their FIFO rest days, to both SKIPA and their own community projects.
—
Looking to create a career pathway through a traineeship or apprenticeship? Browse opportunities here