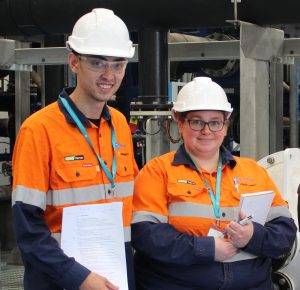 Meet Christina, one of the newest trainees on our City West Water contract. Christina recently completed her cadetship with a new program offered by Programmed and City West Water. The cadetship was a 12-week program where cadets are able to learn about water industry operations and work alongside industry professionals to learn about how a network like City West Water's is operated and maintained.
How did you hear about the program?
I spent many years working in the retail industry and felt like I needed a change. I wasn't entirely sure of what I wanted to do, but I've always enjoyed hands-on learning and working with people. As I began searching for opportunities which required a Construction White Card, I came upon the cadetship opportunity with City West Water and Programmed. The position sounded interesting and seemed like a great way to learn about the industry before committing to a traineeship.
" Every day is different – it's the same basics, but being able to come to work and not know what is going to happen is exciting," says Christina.
How have you found customer service for the water industry different from customer service in retail?
For water, customers just want to know when their water is going back on – how soon something will be fixed. I had an opportunity to meet a number of customers in the field and we work hard to repair a water fault as quickly as we can to minimise the water outage to our customers. I worked with a very experienced supervisor who investigated the fault and repaired it the first time. Once it was fixed the supervisor then provided this feedback to the customer. We are providing a service that can impact many customers every day… they just want a timeframe to know how long something will take.
What has been the biggest reward so far?
Every day is different – it's the same basics, but being able to come to work and not know what is going to happen is exciting. I've also enjoyed learning the theory about why we complete jobs a particular way.
Did any part of the training surprise you?
It was interesting to learn how to trace the water and why it is important. For example, we have customers on dialysis and patients rely on water for dialysis sessions. Some patients have 5-6 sessions a week, so they need to be informed if their water is going to be shut off. Water is so important and you don't appreciate what occurs until you are out talking to customers.
Do you have any advice for other women interested in a cadetship?
Just give it a go and see if it's right for you, that's what the cadetship is all about. The cadetship has allowed me to explore areas I would have never of considered an option in the past, but a curious mind will take you to places never considered possible.
What are you looking forward to learning during your Traineeship?
I'm anticipating the traineeship will be a great opportunity to get more in-depth knowledge of water operations and to spend time working in different areas like water and sewer. I'm ready to be more hands on, and take the opportunity to focus on water and operations.
To learn more about apprenticeships and traineeships visit www.programmed.com.au/careers/apprenticeships-and-traineeships