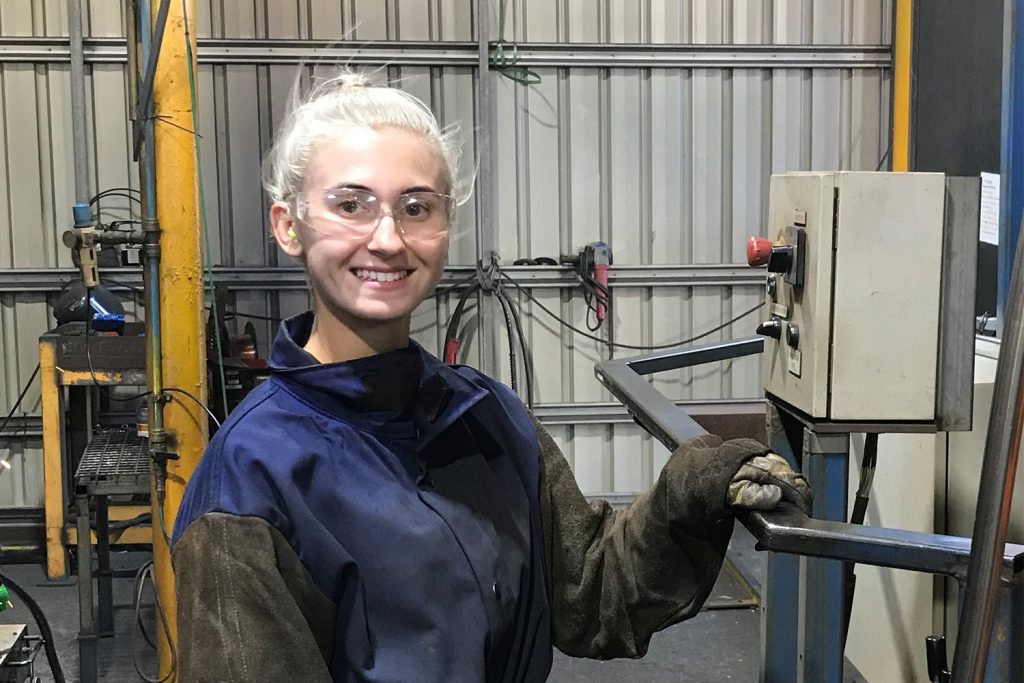 In early 2019, Danielle Curnow joined Programmed Industrial Maintenance (PIM) in Gladstone as the team's first female production worker.
In this role, Danielle operates stub welding machines, welding steel stubs onto line three anode rod assemblies. Each anode rod assembly weighs 500kg which requires Danielle to operate a number of machines to load and unload rods as well as the specialised welding equipment. It's strenuous work. Tasks are hot and repetitive and the team work for up to 10 hours per shift, when demand is high.
While watching Danielle work, it's hard to believe that six months ago she had never welded anything before. In fact Danielle worked as a Personal Trainer at a gym, which is a long way from a production worker in a metal fabrication workshop.
She first heard about the type of work from her husband, a Programmed employee, and it sounded interesting to her. After asking him a bit more about Programmed, she resolved to talk to the supervisors regarding a job in the workshop.
When she first approached Terence Clarke, general manager QLD regarding a role he admits he was a little sceptical due to her lack of experience in the industry.
"Her husband is a qualified boilermaker at Programmed, so I knew she had an idea of what to expect, but it's very different work to what she was doing at the time. Any initial doubts I may have had were erased by her confidence and enthusiasm which made up for any experience she lacked," said Terence.
That was over seven months ago and since then Danielle has proven herself over and over again.
When asked what her typical day looks like, Danielle shares, "I get up and go to the gym in the morning, have lunch and chill out before I come to work at 2pm. Then we have our pre-start, sit down and talk about all our safety topics or any issues we had the night before. Once we make sure we're good for work, we grab out PPE and get outside. My job is welding, so I weld out the stubs on the anode rods. Before I start on this, I check over all the equipment, do the pre-starts and take 5 and then I'm ready to go."
Though Danielle is the first, and currently only, female production worker in the workshop, she hasn't found this to have any impact on her role in the team.
"Even though I'm the only woman in the workshop, there isn't a difference. I suppose in the industry there's predominately men and that's what it gets a rep for. But really females can do it too and I guess I'm proof of that," said Danielle.
During her time with Programmed, Danielle has learnt a range of new skills and a new outlook on safety.
"I like all the skills that I've learnt here. I've been really enjoying it. Everything I have learnt I can use in everyday life, especially safety. Now I automatically see potential hazards and how to control them, without even thinking about it. It really teaches us to have safety at the front of our minds," she explained.
"Safety to me means that we all do our job safely and with care so no one gets hurt. Everybody's good. But most importantly it means myself, my husband, and everyone I work with can all go home at the end of the work day the same way we came in."
It's clear from this that her attitude is in line with Programmed's value of personal safety leadership, and her drive and enthusiasm are something Terence looks for in new team members.
"We are always looking for people with a safety first attitude, strong work ethic and positive disposition. And when it comes to anode repair, a trade is not essential, as we provide the necessary training in all aspects of the work," says Terence.
"Danielle possessed all the attributes we were looking for and so we offered her the role. The results have been outstanding, Danielle fits in seamlessly with the afternoon shift crew and her output and attention to detail is as good as any of her colleagues. In particular her approach to safety and knowledge of the safe operating procedures is first class."