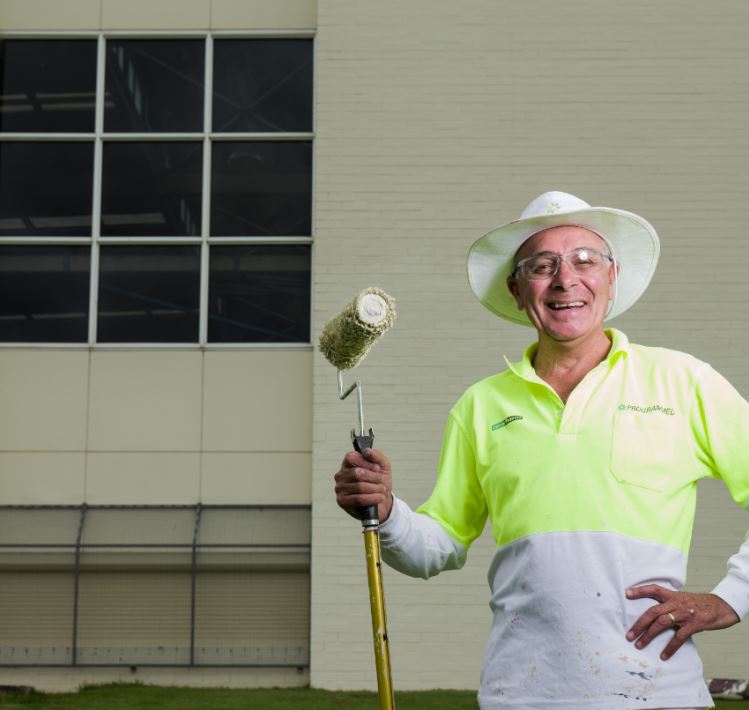 Steve's strong start
Steve was born with a brush in his hand. Apart from a brief two-year navy stint in New Zealand, Steve has been painting since he was 15.
His career began by sub-contracting his skills to companies before starting work at Programmed – just 26 years ago.
Perks of a painter
As a painter, there are those jobs that you remember for years to come.
For Steve, it's the huge re-paint of the Altair Waterfront 17-storey apartment in Perth.
With the clean, white complex facing the beautiful Langley Park and Swan River, Steve and his team had the best view in town.
Though, a second favourite, he admits, would have to be painting at the Royal Australian Airforce Base Pearce in Bullsbrook, north of Perth.
The perks of being a painter: front row seats to watching pilots train in their sleek aircrafts!
Career of a lifetime
To Steve, that's the beauty of the job. You get to try your hand at a huge variety of tasks, in different locations – everything gets a go!
It's one of those special "jobs [where you're] constantly moving around, meeting customers – never being static in one place…as a painter you always have secure work", Steve says.
And there's always time to relax after a hard-day's work.
When Steve puts down his brush at the end of the day, he's off enjoying getting involved with the church community, having a good chuckle with his family and soaking up the beautiful Western Australian sun on bike rides or while playing a spot of golf.
Without the united efforts of team-members like Steve across Australia and New Zealand, Programmed wouldn't be able to provide property services and assistance to over 10,000 customers a day.
Thank you Steve, for your hard work and dedication over the last 26 years, Programmed's continued success is a credit to you – and your team's – unwavering commitment to safety, customer service and excellent service delivery.
We can't wait to see what other memorable projects you have up your sleeve for the future!