It's one of the great many privileges we have at Programmed, hearing the different stories from the great people who work with us and about how we helped them achieve their career goals.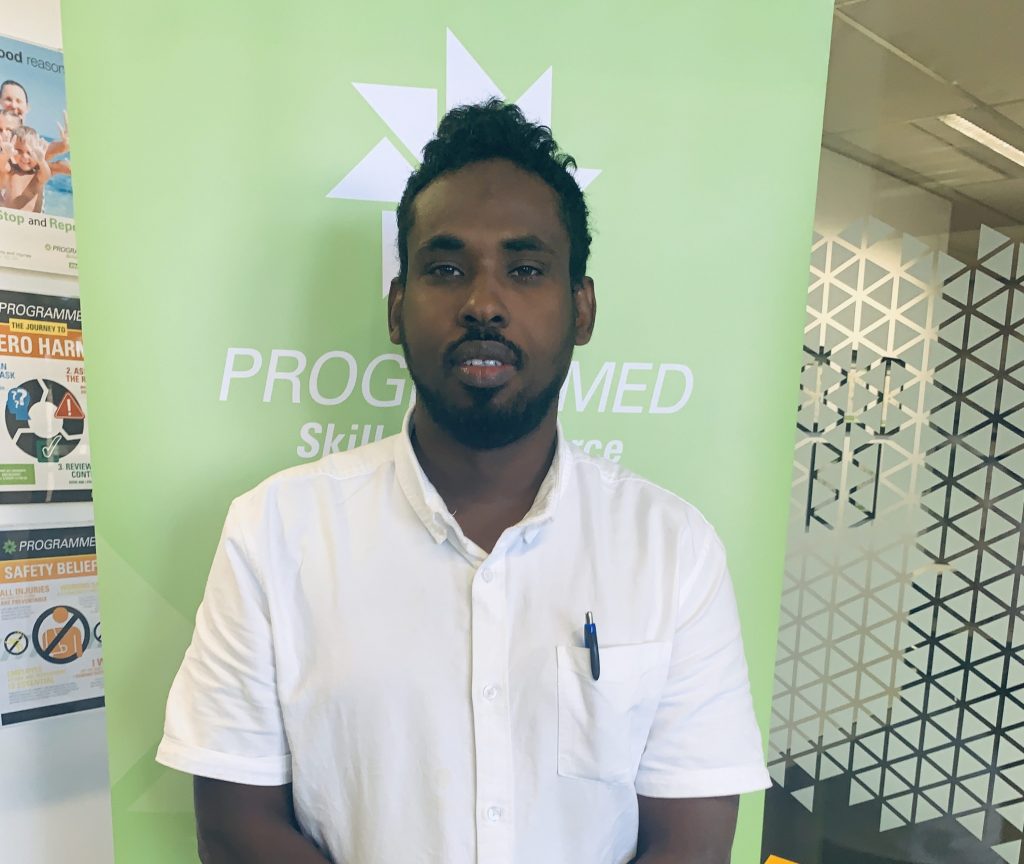 Ali Abdi worked with us through our Karratha branch for a period of six months in 2019.
Ali immigrated to Australia from Somalia in 2013, speaking little English. He started out in Melbourne but found the pace of the city too fast so on a friend's recommendation, picked everything up and moved west to Perth. Three months later, a workmate who was from Karratha said 'Ali, you are a nice guy, you need to go to Karratha because you can make a good life there.'
Once settled in Karratha, Ali found employment with a local cleaning company and later spent some time as a bus driver. Ali then started driving a taxi locally and this was where his dream to own his own cab business started. There were only two taxi business in the area at the time and Ali recognised that there was a need for smaller, more diverse business to support the local community.
Ali walked into our Karratha branch looking to find a job that would pay well and help him to achieve his goal.
'I came to the Programmed office and met Charne (Cook, Area Manager) and AJ (Alisa James, Account Manager). I said I need a job that pays me well and helps me to execute what I want, to start my business. I said I am a good person and you can trust me to do a good job. Charne said to me that we trust you and will help you.'
Our team supported Ali with help using computers for registrations and interview preparation. We soon placed him in a role with one of our mining customers, working a two-week on/off roster at a site 85 kms from Karratha.
'I was very welcome on the mine site. I worked with a lot of other Programmed employees. People helped each other a lot there. When you start a new job, it takes time because there is a lot to learn but soon after, I said this is me and I can do this.'
Ali worked with us for over six months, majority of time spent on mine sites and was thankful for the support that he received from Programmed during that time.
'Programmed gave us any support we needed; training, transport, BBQs at camp, safety conversations about our physical and mental health. If you needed help, you give Programmed a call, saying what you are going through and you will get a quick response from the team.'
Ali saved hard while working for us and once he had saved enough, he bought a taxi licence which enabled him to set up his business including a call centre and bringing on two taxis to service the Karratha area.
Giving back to the local Karratha community is what motivates Ali every day; 'Karratha is my hometown that I love, it motivated me to set up this business and be part of the city of Karratha as it grows and support the people.'
His advice to others looking to achieve their own career goals is to believe in yourself and you will achieve your dreams, but if you can't, ask for help.
'Friends, family, colleagues, ask them for their advice. Sometimes you can't see the qualities in yourself and when you ask others advice about what you want to do, they can direct you to what you need to do and give you the advice you might not have.'
'Even just talking to Programmed can help you. They are a big company but if you are a part of the Programmed family, then you can achieve what you want. They can give you diverse opinions from their diverse experience working with different people.'
---
Need help finding your next career move to achieve your goals? Register your details, search and apply for jobs on Programmed GO, available free from your App store or visit jobs.programmed.com.au.